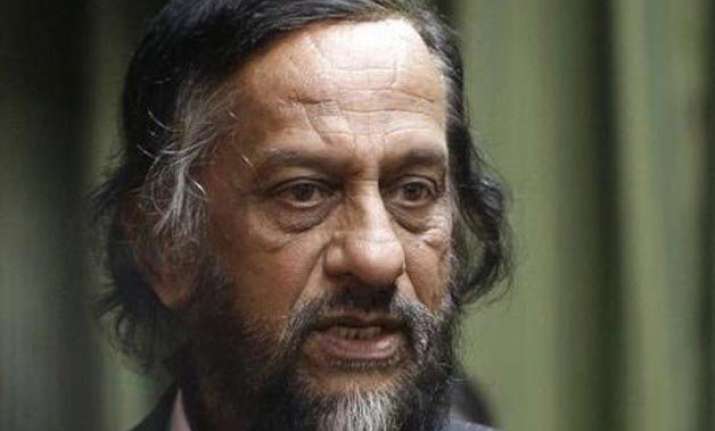 New Delhi: TERI University's Executive Vice-Chairman RK Pachauri, who has been under the scanner due to multiple sexual harassment charges, has proceeded on leave today. Facing the ire of University's students over his elevation to the newly created post, Pachauri will skip the varsity's convocation ceremony which is to be held on March 7th.
Women activists from across the country along with the alumni had also been protesting against his appointment whereas a group of students had refused to accept degrees from him.
Rajiv Seth, acting VC of TERI University, said to PTI, "Yes. He is on leave. I can confirm this as his position as Chancellor of the TERI University. As Chancellor, he is on leave. He communicated this today.
"The convocation is on March 7. He (Pachauri) would not be attending it," he added.
Asked who would be holding the position of Chancellor during Pachauri's absence, Seth said it is yet to be decided and since the VC is involved in the day to day affairs of any university, Pachauri's going on leave will not affect the institution's functioning in anyway.
"That has not been decided yet. His position was of a Chancellor. One who gets involved in day to day things is the VC in any university. So it does not affect the functioning of the university in anyway," Seth said.
Asked to comment on the letter that was written to him by the alumni, Seth said that opinions must be debated and the university will never suppress them.
"We always had a spirit of openness and debate at the university. It is okay if people come up with opinions, we must debate it.
"We would not like to suppress any opinions. It is very important as an academic institution to have openness and open debate. At TERI, which is a Research University, this is encouraged even more," he said.
Some alumni of 2013-2015 batch, had yesterday written to Seth saying the recent "inaction" of the board of management at TERI University with respect to Pachauri "deeply saddened" them.
"Pachauri's continuing presence at the top is completely antithetical to our convictions as alumni and graduates of TERI University. We would like to make it explicitly clear that we are not in a position to accept our degrees from him at the upcoming convocation on March 7, 2016.
"We reiterate, that the trajectory that the university is taking is dangerous and grossly inconsiderate and as alumni, we sincerely hope that the TERI University Board of Management may seriously re-evaluate Pachauri's continuing role as Chancellor of the university," the alumni wrote in their letter.
Trouble mounted for Pachauri, already in the thick of a legal battle over sexual harassment allegations, when another woman, a former employee of TERI, yesterday came out in public making similar accusations while demands were made for putting on hold his fresh appointment as its Executive Vice Chairman.
The woman to whom he had allegedly made sexual advances more than 10 years ago also slammed TERI for appointing Pachauri to the higher position.
Yesterday, a group of former TERI employees and its University Alumni had also condemned the fresh appointment of Pachauri, saying it was a "slap" on the face of those fighting against gender discrimination and demanded deferment of his elevation till the case was decided by the court.
The group had condemned the elevation under the banner of 'A few concerned ex-TERI employees and members of TERI University Alumni network'.
(With PTI inputs)