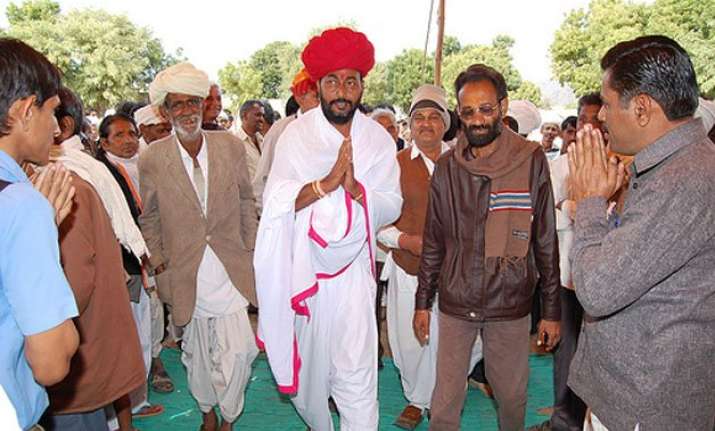 New Delhi: Otaram Dewasi, 48, is Rajasthan's minister in charge of cow affairs. He is India's first-ever minister holding the charge of 'Gaupalan department'.
Dewasi, also called 'Bhopajj' (meaning: priest) by his tribesmen, dresses up like a cowherd with a long white cloth on his bare torso, red turban, dangling ear rings and a lathi in hand. He walks like this everywhere, even in the office of Vasundhara Raje, Chief Minister of Rajasthan.
BJP and Raje had promised a separate ministry for cows in its poll manifesto. And with Raje's victory as CM in December 2013, a separate ministry was created  for the protection of bovine considered to hold spiritual importance.
Later, the ministry was reduced to a mere 'department' due to a constitutional hurdle that states are not empowered to create new ministries.
Finally, in October 2014, the ministry of Dairy and Devasthan was formed and Otaram Dewasi was made its minister. The core responsibility  of this ministry was to take care of those temples which are funded by Government.  Dewasi, however, was assigned an extra charge of the 'gaupalan department' too.
His responsibility also includes overseeing Rajasthan's Gau Seva Commission and Cow Conservation Directorate.
Three months into his tenure, Dewasi believes that he has done a commendable job to secure future of cows and set up an exemplary department for the rest of the states to follow.
Dewasi, who himself owns "20-25 cows", wants that protection of cow, the holy animal of hindus, should be taken up at a larger level. "I have sought an appointment with Prime Minister Narendra Modi after the Union budget so that I can impress upon him on the urgent need to set up a cow ministry at the Centre," Dewasi told The Economic Times.
Dewasi, however,  dismissed the question relating to protection of other cattle stock.
"Cows have a spiritual importance unlike other livestock animals. They must be protected at any cost. I would request Modiji to ban cow slaughter and, if need be, introduce strong legislation for that," he said.