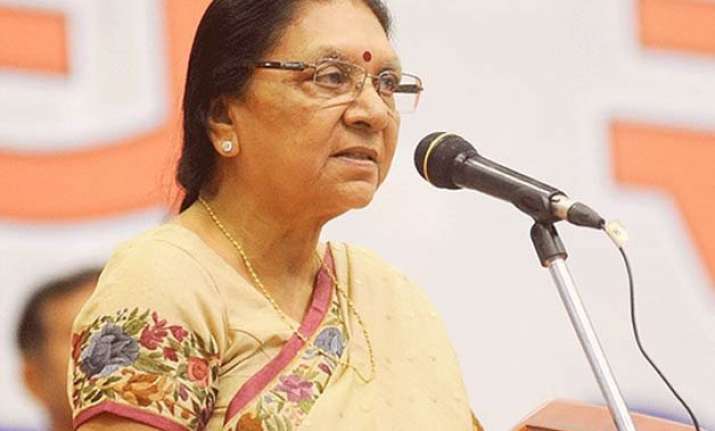 Beijing: Following up on Prime Minister Narendra Modi's high-pitched campaign, Gujarat Chief Minister Anandiben Patel is scouting for more investments in China, including for the world's biggest fresh water reservoir proposed at Gulf of Khambat. 
Patel, who met investors in Beijing yesterday, wants overseas investments to back the Rs 21,000-crore project that will tap water from rivers which otherwise drains into the sea. 
The project will be a boon as 68 per cent of the state suffers water deficit. Design and engineering work will start soon, after which tenders will be floated, Patel told PTI. 
Several firms from China and Japan are studying the project, she said here after addressing the Indian community. 
Patel, who was one the two chief ministers to accompany Modi to China, today flew to Gaungzhou province, which has a sister-province tie up with Gujarat. Their provincial capitals are also linked as sister-cities. 
Besides addressing a Business seminar in Guangzhou, China's most industrialised province, Patel will travel to Shenzhen where she is expected to work out an MoU between Qianhai Development Zone and Gujarat's GIFT city. 
This is her first visit to China after taking over as Gujarat's Chief Minister. As chief minister of the state, Modi made four visits to China to woo Chinese investors. 
Gujarat, which has the highest number Chinese investments, continues to be China's favourite investment destination. 
The state bagged new investments among the 26 MoUs signed at the India-China business forum yesterday in Shanghai. 
The projects include the integrated steel project to be established by Welspun group and China National Technical and Import and Export Corporation, and an Industrial Park to be established by China Small and Medium Enterprises Ltd. 
Patel is also upbeat about the Chinese Industrial Park agreed during the visit of President Xi Jinping to Gujarat last year. It will start functioning from later this year as most of the land acquisition process is completed, she said. 
Patel has backed the India-China State and Provincial Forum launched by Modi in Beijing on May 15, saying that it provides a solid platform for chief ministers of Indian states to work out projects and investments in cooperation with Chinese provinces.