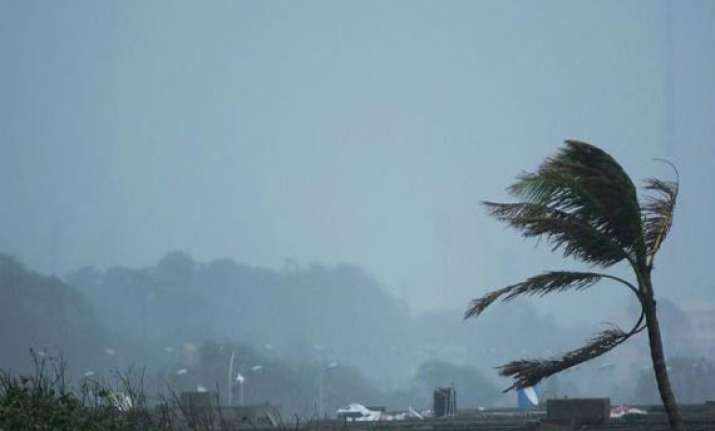 New Delhi/Bhubaneswar:  With cyclone Phailin set to hit Odisha and Andhra Pradesh coasts this evening, the Railways have cancelled all trains between Howrah and Visakhapatnam as a precautionary measure.
All flights originating from Bhubaneswar today were cancelled in view of cyclone. The flights will resume only after the cyclonic storm weakens.
While Railways have announced they have cancelled some passenger trains yesterday, Railways decided to suspend movement of all trains today in view of the cyclone.
"All trains between Howrah and Visakhapatnam will remain suspended today and are also likely to remain suspended tomorrow," a senior East Coast Railway official said.
The trains which have been cancelled include
Bhubaneswar-Visakhapatnam Intercity Express, Bhubaneswar-Tirupathy S/F Express, Bhubaneswar-Secunderabad Visakha Express, Guntur-Visakhapatnam-Guntur Simhadri Express, Howrah-Bhubaneswar Janshatabdi Express, Howrah-Puri Shatabdi Express and Bhubaneswar-New Delhi Rajdhani Express.  While, Yesvantpur-Bhubaneswar Prasanti Express and Secunderabad-Bhubaneswar Visakha Express have been short terminated at Vishakapatnam.
The railway administration has also decided to divert the routes of several other trains running between Howrah and Chennai.
Two trains which have been diverted via Vizianagaram and Jharsuguda are Tiruchirapalli-Howrah and Chennai-Howrah Mail.  The trains diverted via Chakradharpur and Bilaspur are Howrah-Chennai Falaknuma Express, Howrah-Yashvantpur Duronto Express, Haldia-Chennai  S/F Express, Howrah-Hyderabad East Coast Express.
Guwahati-Trivandrum Express has been diverted via Vizianagaram and Jharsuguda, they said.  Cyclonic storm Phailin is currently positioned just 260 km off the coast of Gopalpur in Odisha, which is likely to be epicentre of the storm.