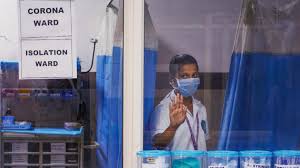 Five more people have tested positive for coronavirus in Noida as the city reels from fast-spreading coronavirus. As per the latest reports, 4 of the 5 new COVID-19 cases have been reported from JJ colony, Nangla, Sector 5 while the other one has been reported from Gram Vajidpur, Sector 135.
Both the localities have been sealed off till 10:00 PM on Sunday and the disinfection process is underway. 
These 5 cases have taken Noida's overall case tally to 55. 
Uttar Pradesh Chief Minister Yogi Adityanath, on Saturday, said that the government was making cheap, reusable masks for the people made out of khadi. 
There have been 174 confirmed cases of coronavirus in UP so far out of which 19 have been discharged while 2 have succumbed to the disease.