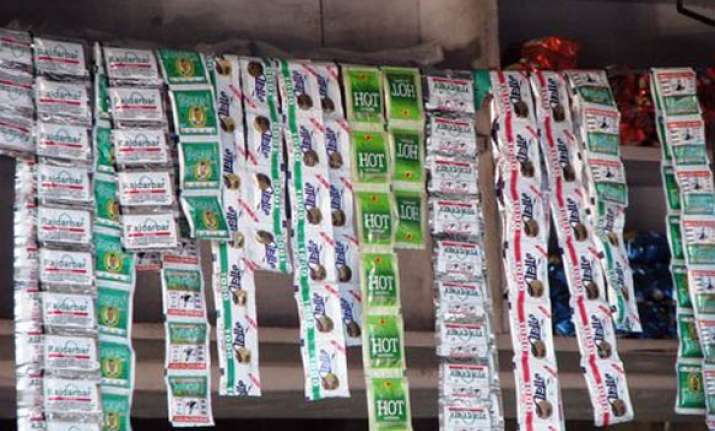 New Delhi, Feb 17: The Supreme Court today refused to relax its order banning sale of tobacco products like gutka and pan masala in plastic sachets beyond March 1 after taking note of government's submission that 90 per cent of oral cancer cases in the country are on account of chewing tobacco.
A bench of justices G S Singhvi and A K Ganguly declined to relax the deadline imposed by it on December 7, while taking on record an expert panel's findings, submitted to it by the Centre on the harmful impact of various tobacco products on human health.
The apex court also sought the government's response on various interim and interlocutory applications challenging the government's February 4 notification, implementing the central law, the Plastic Management and Disposal Rules 2009, to regulate the use of plastic for packaging gutka and other tobacco products.
The government had notified the law on February 4 after the bench had rebuked it on February 2 for not implementing the law and asked it to notify the same within two days.
With a spate of interim applications against the government's notification before the court, the bench asked Solicitor General Gopal Subramanium, "Why did it take you (the government) so long? What were you doing all these days?"
At this, the law officer said the notification had been issued following the court's order.
Quoting extensively from the research report submitted by an expert panel engaged by the government, Subramanium told the court that 86 per cent of oral cancer cases in the world originate from India and of this 90 per cent are on account of chewing tobacco products.
The court was hearing an appeal filed by gutka and pan masala manufacturers challenging a Rajasthan High Court order banning use of plastic sachets.
Endorsing the high court order, the bench had on December 7 restrained gutka, pan masala and chewing tobacco manufacturers from using plastic as packaging material for their products by March 1 this year and ordered the government to entrust an independent agency with the task of testing the contents of these sachets to evaluate the risk they pose to consumers.
The bench had also directed the Centre to finalise and enforce withing eight weeks the Plastic Management and Disposal Rules 2009, ruing that despite the rules having been framed in 2009, the authorities were yet to enforce them. PTI