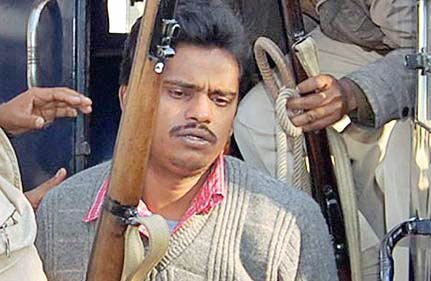 New Delhi, Nov 26: The Supreme Court today sought CBI's reply on an appeal filed by Nithari serial rape and murder convict Surinder Koli against his death sentence imposed by a Ghaziabad court and confirmed by the Allahabad High Court.
A bench of Justices P Sathasivam and B S Chauhan also asked the CBI to place all relevant records relating to the case before it and posted the matter for hearing on February 8, 2011.
The apex court said it will hear Koli's appeal along with the cross appeal filed by victim Rimpa Haldar's father Anil Haldar, who has challenged the Allahabad High Court's decision to acquit Moninder Singh Pandher, the other key accused and employer of Koli.
 Koli was sentenced to death along with Pandher by the sessions court in Ghaziabad on February 13, 2009 but the Allahabad High Court on September 11, 2009 confirmed Koli's death sentence while acquitted Pandher of the charges.
Aggrieved Anil Haldar filed the appeal challenging Pandher's acquittal and seeking restoration of the death sentence awarded by the sessions court.
The apex court has appointed Dr Sushil Balwada as amicus curiae to assist the court in the macabre serial rape and murder case that shook the collective conscious of the nation.
In all, 19 rape and murder cases were registered against Koli.
Earlier, the apex court had issued notice to the CBI on the petition challenging acquittal of Pandher in one of the cases.
The apex court had also sought a response from Pandher on the petition filed by the family members of a victim against the Allahabad High Court verdict setting aside his conviction and death sentence awarded to him by the trial court.
Pandher's house in Sector 20 Noida was the scene of the horrific rape and killings of girls and women nearly three years ago. PTI