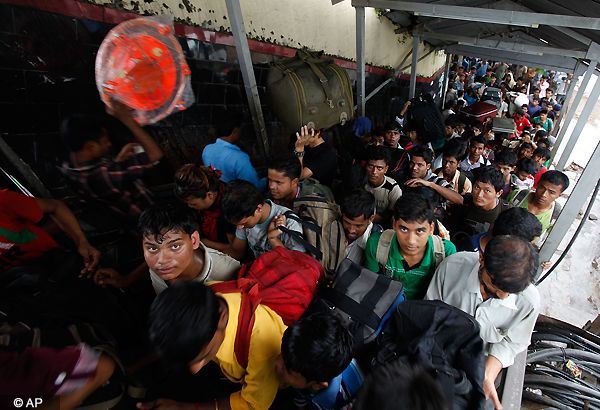 Bangalore/Chennai, Aug 20: After four days of panic-driven exodus of Northeasterners, the situation eased today with police and railway officials saying it has stopped in Karnataka and reduced to a trickle in Tamil Nadu.




In contrast to the scenes of people of the Northeast fleeing over rumours of backlash over Assam violence, it was a normal situation in Bangalore which was turned into a virtual fortress with tight security in place.

Upto 30,000 people had fled the country's IT capital since late last week which abated yesterday after the government went overdrive to instil confidence in the NE people.

Over 18,000 police personnel, bolstered by Rapid Action Force and Central Reserve Police, kept a hawk-like vigil in the city with Ramzan also celebrated today.

"The situation is absolutely peaceful and normal ...People from the northeast are going about their chores without any disturbance and the exodus has completely stopped", Additional Commissioner of Police (Law and Order) Suneel Kumar told PTI.

Bangalore Police Commissioner Jyothi Prakash Mirji said they have held several peace committee meetings with community leaders and police intensified night patrolling.

Railways, which ran additional trains to Guwahati after the sudden rush of fleeing northeasterners, did not operate any special services for the second consecutive day.

"There are no trains to Guwahati today... passengers, if any from Bangalore, will be directed to board Yeshwanthpur-Howrah Express from Yeshwanthpur and will have to proceed to Guwahati from Howrah", ADGP Railways Bhaskar Rao said.

Karnataka Deputy Chief Minister and Home Minister R Ashoka, announcing 24-hour duty for himself today, undertook rounds along with top police officials last night and visited places inhabited largely by Northeastpeople.

In Chennai, after four consecutive days, the number of NE people leaving the city by trains noticeably reduced.

"There were very few people from the Northeast today at Chennai Central station. It is far less compared to earlier and it has reduced from Tamil Nadu," a senior railway official said.

The last train that left with three extra coaches was the Howrah-bound Coromandel Express this morning.

However, those coaches had mostly those who arrived here from Bangalore, he said, adding, only over 150 tickets were sold from Chennai Central Railway Station counter.

Though an approximate number could not be put, as some of them came from other states to change trains, the number of home-bound NE people was certainly dwindling, he said.

In an isolated incident, migrant workers from Assam, working in a hollow brick manufacturing unit at Manjeri in Kerala's Malappuram district, were allegedly threatened by some unidentified persons to leave the state by today, following which police stepped by vigil.

The workers were threatened on August 16 midnight by a 12-member gang and a complaint in this regard was filed by the unit owner before Manjeri police on August 18, police said.