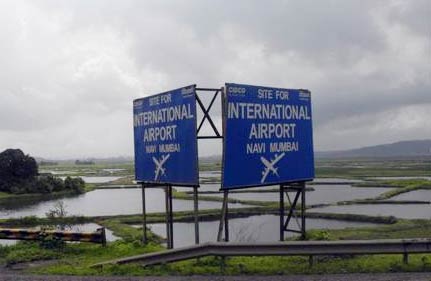 New Delhi, Nov 22: After a year-long tussle between Civil Aviation and Environment Ministries, the Navi Mumbai airport finally got the green signal today but with riders about resettlement of displaced people and development of mangroves around the site.
"Today, formally the environmental clearance has been given to the Navi Mumbai Project. The provisions of building the airport will start from today," Environment Minister Jairam Ramesh told reporters here.
The announcement was made at a joint press meet with Maharashtra Chief Minister Prithviraj Chavan as also Civil Aviation Minister Praful Patel with whom Ramesh had differences over the Rs 8,722 crore project.
The clearance was given on the conditions that 678 hectares of mangroves will be developed in and around the project site, river Gadhi will not be diverted besides 30 other riders which have to be impelemented to minimise environmental impacts.
However, a 90-meter high hillock will have to be removed to smoothen the approach to runway and the "tidally influenced waterbody" Ulwe will be recoursed. "A number of safeguards will have to be implemented to ensure that the environmental impact is kept to the minimum," Ramesh said.
With the environment clearance in place, both Chavan and Patel said that bidding process for the development of the airport will be completed and contracts will be awarded within 8-12 months.
The Chief Minister said that 3,000 families will have to be relocated and expedious steps were being taken to rehabilitate them.
The Prime Minister's Office has been closely monitoring the progress in building the second airport as the existing Mumbai airport, where additional flights are now being restricted due to saturation, is likely to exhaust its capacity of handling 40 million passengers a year by 2013. PTI