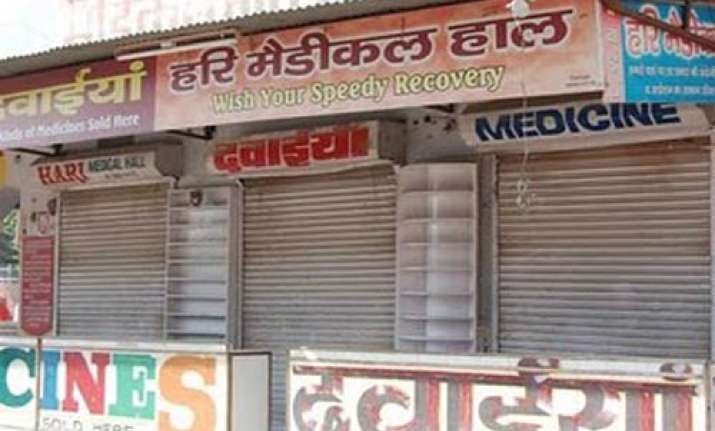 New Delhi, Aug 1 : Chemist are planning to shut shop on August 1 to protest against a government order to make prescriptions compulsory for the sale of 74 listed antibiotics. 

The strike, called by the All India Chemists and Distributors Federation, is against the government decision to replace Schedule H by Schedule Hx in the Drugs and Cosmetics Act-1940.

Under the amendment, doctors have to make double prescriptions for the sale of antibiotics, one for patients and other for chemists. Chemists have to keep a record of these prescriptions for the sale of these antibiotics for the next financial year.

Thanks to Schedule HX, the drugs for TB (Rifampicin, Isoniazid and Pyrazinamide), Ciprofloxacin and Norfloxacin (for Diarrhoea) and Framycetin (for burns) would no longer be as easily available as they are today.

According to Kailash Gupta, president of the chemists' association, "As much as 60 per cent of our sales is based on antibiotics, and maintaining such detailed records for a year is practically impossible. Also, from the patient's point of view, all the drugs in a prescription are mostly not found in the same chemist shop. This will inconvenience them."

Chemists are also protesting against the second amendment, which involves restricting 16 lifesaving drugs, including those for cancer and cardiovascular issues, to a few hospital-based pharmacies. "This proposal will affect the common man. People need lifesaving drugs in emergency situations, and it is absurd to make them travel to select hospitals to find them. It is obviously a proposal intended to favour MNCs," said Gupta.

He said such policy changes would give rise to a "black market" for antibiotic sales. All pharmacies affiliated to the association will remain closed on August 1 to protest against these policy changes, he added.

Government officials said the policy is aimed at curtailing resistance to antibiotics. "We have only included fourth-generation antibiotics in the list so far. In Western countries, no drugs can be sold without a proper prescription. Also, over-the-counter sales of cancer and heart-related drugs can have future repercussions on the patient. These are teething troubles, but the government is committed to bring about a proper antibiotics policy in the next five-year plan," an official from the Union Ministry of Health said.

An official of the Delhi Medical Council said, "Doctors are ready to provide double prescriptions for all drugs."

Following drugs have been banned for over-the-counter sale: Penicillin, Soframycin, Ampicillin, Cephalexin, Erythromycin (for infections), Ciprofloxacin, Common antibiotic eye drops like Ofloxacin and Norfloxacin, Amoxicillin, Drugs for Tuberculosis like Pyrazinamide Tablets, Rifampicin+Isoniazide Capsules and Ethambutol tablets and Cough syrup like Benadryl and Zedex.

Chemists the ban may lead to an estimated loss of business worth Rs 5,000 crore for the retail medical shops.All India Organisation of Chemists and Druggists (AIOCD), the apex body of over 700,000 licensed medicine sellers, fears the move will make chemists responsible for ensuring the authenticity of a prescription.

Any sales, carried against prescriptions from unregistered medical practitioners may invite fine and imprisonment to the chemist, says the draft rule being worked out by the ministry. The central government's move is meant to put an end to the misuse of antibiotics.

AIOCD says that while the association supports the rational use of antibiotics, it is against the manner in which it is being planned.

The ministry wants to restrict the sale of 16 medicines to tertiary care hospitals. These drugs will be supplied by the manufacturer directly to the hospital pharmacy.

The next set of 74 medicines can be sold by chemists on the prescription of registered medical practitioners (RMPs).

AIOCD president J S Shinde terms this clause as impractical as 10 states do not have an official list of RMPs. "How can the chemist verify the credentials of each and every prescription? It is impossible if the prescription is generated in one city and the patient needs a medicine in some other city. According to the proposed rule, if the doctor is found to be a non-RMP, the chemist can be punished for a fine up to Rs 20,000 or imprisonment up to two years," he says.

AIOCD says the move will practically stall the sale of these medicines, which constitute 50 per cent of the volume sales of medicines in the country, in most places. "Sixty five per cent of rural and urban population will be deprived of antibiotics," says Shinde.

While the organisation continues to lobby with the government to stop going ahead with the framing of this rule, it is also planning to observe a one-day country wide hartal in August to express its protest against the government move.

India's domestic drug sales is worth Rs 60,000 crore annually. This includes over Rs 45,000 crore that takes place through retail outlets and the rest through institutional sales.