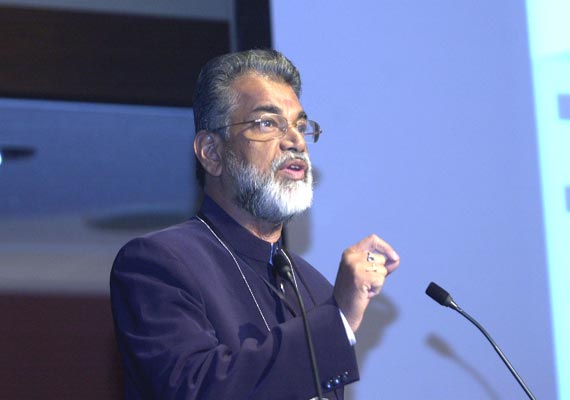 Bangalore, July 29: US space agency NASA and India's premier space agency ISRO are in talks for jointly building a satellite for the first time.
"Now, there is a feasibility study going on whether we can jointly make a satellite, with synthetic aperture radar (SAR) payloads working on two frequency bands - L-band and S-band", Chairman of Indian Space Research Organisation (ISRO) K Radhakrishnan told PTI here.
Charles F Bolden Jr., Administrator of National Aeronautics and Space Administration (NASA) of United States,
visited the Space Applications Centre (SAC) of ISRO in Ahmedabad on June 25.
He had a meeting with Radhakrishnan, also Secretary, Department of Space, along with senior officials of ISRO to discuss the ongoing cooperative activities between ISRO and NASA and also the potential areas of future cooperation.
"...the joint satellite mission is an important step. It's not making an instrument and plugging it actually. It's working together. That's what we are discussing. It (working together) should happen in the next few months", Radhakrishnan said.
"Both organisations are coming together and saying let's develop it together...use your strength, use my strength. That's a good way of working", he said.
"It (the proposed satellite) is interesting from scientific point of view, it's interesting from normal resource management point of view," he said.
Radhakrishnan said NASA's Jet Propulsion Laboratory would make the radar system "if it (in case of NASA, ISRO deciding to work together on the mission) is getting through".
On ISRO's role, he said, "We will be working together. Some will be built by us, some will be built by them. So, this (work-sharing) has to be finalised", adding, data generated by the mission would be used by both ISRO and NASA.
Radhakrishnan hinted at the possibility of ISRO making the satellite for the joint mission, with launch from Indian soil.
In this context, he pointed to the Indo-French joint satellite missions Megha-Tropiques and Saral, with Paris
opting for Indian satellites for the ventures with 'desi' rockets.
India's 2008 Chandrayaan-1 mission had two instruments from USA.
Mini Synthetic Aperture Radar (MiniSAR) was from Johns Hopkins University's Applied Physics Laboratory and Naval Air Warfare Centre, USA through NASA. MiniSAR was mainly intended for detecting water ice in the permanently shadowed regions of the lunar poles up to a depth of a few meters.
Moon Mineralogy Mapper (M3), an imaging spectrometer from Brown University and JPL through NASA, was intended to assess and map lunar mineral resources at high spatial and spectral resolution.
M3 aboard Chandrayaan-1 helped to find the existence of water molecules on the lunar surface.
"They (NASA) had two instruments (on Chandrayaan-1). It worked and they got good return out of it", Radhakrishnan said, noting the finding.
He also hinted that ISRO might contribute to NASA's new asteroid initiative, which includes work to identify and characterise asteroids of all types and a mission to capture and redirect an asteroid into an orbit closer to Earth so that astronauts can visit it.
Radhakrishnan said NASA is looking at international space community regarding its perception on the subject (asteroids).
"Maybe some joint work will emerge at a later stage. But it's in a very nascent stage", he hastened to add. "NASA has a plan to see how they can manage asteroids, and whether they can do some manipulation of its orbit, etc".
ISRO officials noted that India and United States pursue active civil space cooperation mainly in the areas of earth sciences, space exploration, satellite navigation and professional exchange.
Last month's visit was the first by Charles F. Bolden Jr. to any ISRO Centre after he took over as NASA Administrator in July 2009. Bolden is only the third NASA chief to visit ISRO in the past four decades.