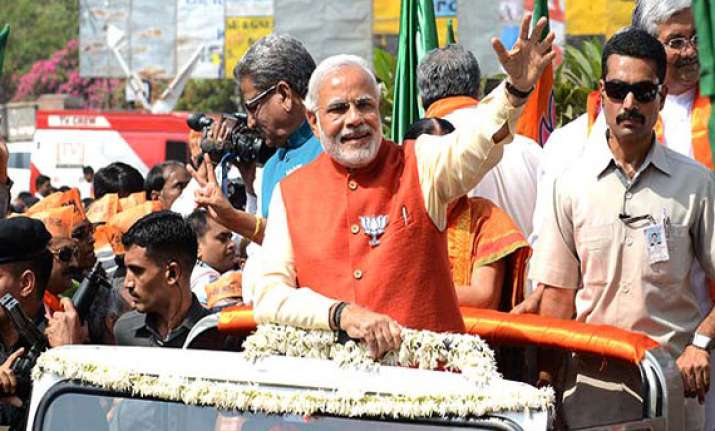 New Delhi: Delhi Police today issued a traffic advisory asking commuters to avoid certain roads which fall on or around the route of BJP's Prime Ministerial candidate Narendra Modi's proposed roadshow from the Indira Gandhi International airport to the party's headquarters in Central Delhi.
According to the advisory, from 10 am onwards, no traffic exiting from Terminal-3 shall be allowed to go on Central Spine Road and Tunnel Road, Aerocity and all traffic shall be diverted straight toward Centaur Hotel and Mahipal Pur on NH-8.
From 11 am, no traffic shall be allowed to move on NH-8 toward Dhaula Kuan and on Sardar Patel Marg from Dhaula Kuan to 11 Murti. Public transport, commercial vehicles and general traffic shall be diverted as per the position of the procession and traffic regulation requirements.
The route of the roadshow will be, IGI Airport Terminal III - Service Road - Central Spine Road - Aerocity - Sanjay 'T' Point - NH 8 - Dhaula Kuan Flyover - Sardar Patel Marg - 11 Murti - Mother Teresa Crescent - R/A Teen Murti - Teen Murti Marg - R/A GKPO - Akbar Road - R/A Moti Lal Nehru Place - Janpath - Windsor Place - Ashoka Road BJP Heaquarters.
Hundreds of Delhi Police personnel will be deployed on the roads which will be properly sanitised. Senior police officials will also be out there on the field to assess the security apparatus in real time and make amends accordingly.
"His security detail will be the same as provided to a Prime Minister," said a senior police official.