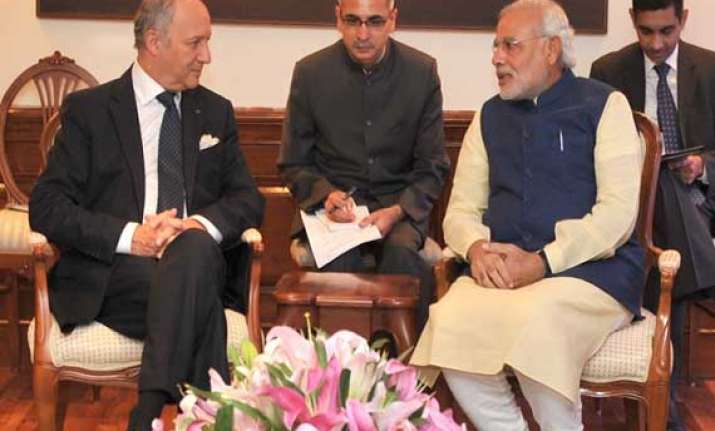 New Delhi: Visiting French Foreign Minister Laurent Fabius yesterday met Prime Minister Narendra Modi and invited him to visit France, as the two leaders had "positive" talks on ways to strengthen bilateral cooperation in areas such as defence, trade, investment and urban development.
Fabius, who earlier in the day took part in a panel discussion on green growth, offered credit line of 1 billion euros to India for sustainable urban development.
He also met Environment Minister Prakash Javadekar and hoped that India will play the role of a bridge between the developed and developing countries in the series of discussions leading up to the Paris Climate 2015 event.
The French minister, who is the first high-level leader from a western nation since the BJP-led National Democratic Alliance government came to power, extended President Francois Hollande's invitation to Modi to visit France.
Fabius called the meeting "warm", and said he had "positive" talks on issues of urban planning, tourism and low-cost defence manufacturing.
"The next step is for French firm Dassault and for the Indian government to discuss the details which have not yet been discussed and hopefully reach a conclusion (over sale of medium multirole combat aircraft to India)... for us, the earlier the better," the minister told a select group of news agency journalists.
Officials from the Prime Minister's Office said Modi sought French cooperation in urban planning and heritage conservation.
Observing that France provided technical support for the Ahmedabad Heritage Project, Modi said India plans to build heritage cities and 100 new smart cities and sought France's cooperation in it.
"The prime minister also sought French cooperation in tourism, skill development and low-cost defence manufacturing," an official statement said.
Fabius said France was keen to expand cooperation and the relationship, following the assumption of office by the new government in India.
The issue of terrorism also figured in the meeting attended by External Affairs Minister Sushma Swaraj.
A PMO official said Modi also mentioned that French satellite SPOT-7 was placed in orbit by the Polar Satellite Launch Vehicle from Sriharikota Monday.
Later, speaking at a discussion on sustainable development in response to climate change, Fabius extended a line of credit to boost sustainable infrastructure.
"In order to boost our cooperation, I am happy to announce that France has decided to propose a credit line of up to 1 billion euros over the next three years for sustainable infrastructure and urban development in India through the French Development Agency," he said.
The discussion was organized by the French embassy, The Energy and Resources Institute (TERI) and Confederation of Indian Industry (CII) at the India Habitat Centre here.
Fabius outlined five areas of concrete cooperation between the two countries -- carbon-free energy, civilian nuclear energy, water management, urban development, and space and earth observation.
He said France is scheduled to hold the "Paris Climate 2015" event with an ambition to bring the planet back on track with a global warming of less than two degrees Celsius.
He said it was still possible to keep to the target of an increase below two degrees Celsius.
In his meeting with Javadekar, Fabius discussed global environmental problems, responsibilities of developed countries and future roadmap of climate change, need for sustainable development and poverty eradication.
Javadekar said that part of the green climate fund could be utilised to finance differential cost of intellectual property rights which would help developing countries adopt cutting-edge technologies.
He assured France of India's positive engagement in talks concerning climate change.
Javadekar said the government had changed the nomenclature of the environment ministry by adding "climate change" to it.
He said the government's focus was on poverty eradication and providing energy access to all to ensure sustainable development.
Later in the day at a ceremony held in Mumbai, Fabius conferred the distinction of "Knight of the Legion of Honour" on Bollywood superstar Shah Rukh Khan in recognition of his outstanding contribution to cultural diversity across the world.