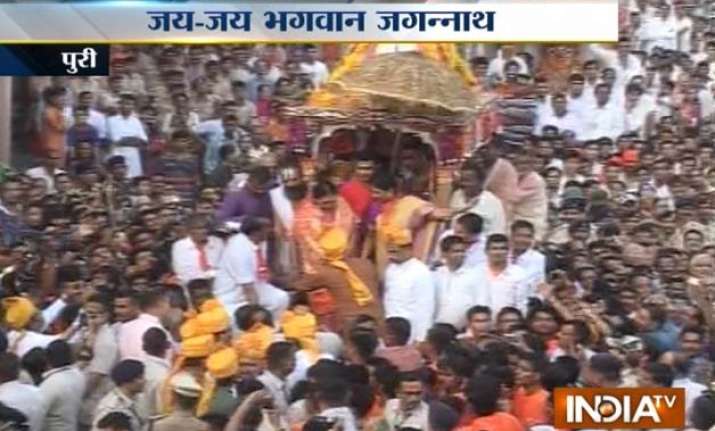 Puri/Ahmedabad: The century's first Nabakalebara Rath Yatra of the Jagannath Temple in Puri began today amid tight security.
The three gigantic colourfully decked up wooden chariots of Lord Jagannath, Lord Balabhadra and Devi Subhadra will be pulled by ropes by thousands of devotees.
The 2.5-km-long Bada Danda (grand road) between the Jagannath Temple and Gundicha Temple attracts lakhs of pilgrims from across the country and abroad.
Puri's Rath Yatra is an annual celebration, marking the annual journey of the deities from the 12th century Jagannath Temple in the chariots to the temple of Devi Gundicha.
The annual yatra, which commenced from the Puri temple, will conclude at Gundicha temple, covering nearly 2.5 km distance, in nine days. The yatra will conclude on July 29.
Nabakalebara Rath Yatra occurs once in 12 or 19 years depending whichever year has two Ashadha (rainy season).
Meanwhile, in Ahmedabad, CM Anandiben Patel performed 'Pahind Vidhi' after which the annual rathyatra of Lord Jagannath, elder brother Lord Baldev and their sister Devi Subhadra began.
'Pahind Vidhi' is a symbolic ritual to clean the way of the route where the Lord's chariot will roll on.
The Chariot of Lord Jagannath will roll out on the roads today along a 14-km-route across the city, where lakhs of devotees will seek blessings after the yatra begins from the over 400-year old temple in Jamalpur area.
The procession of the Rath Yatra comprises 18 elephants, 100 trucks, 30 religious congregations, 18 singing troupes, three chariots and seven cars.
Tight security arrangements with thousands of personnel pressed into service to ensure smooth conduct of the celebrations.