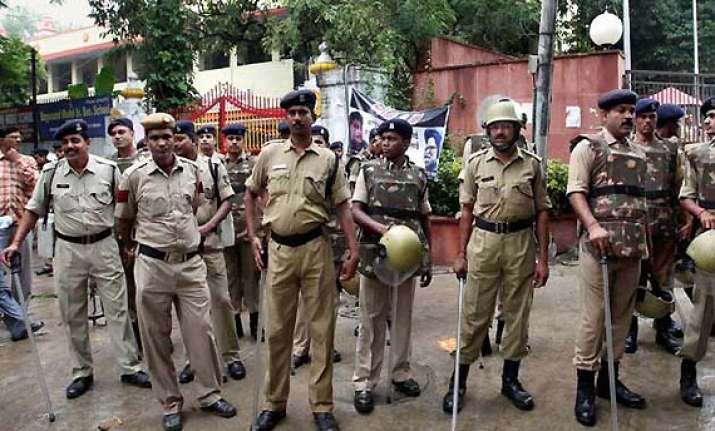 New Delhi: Local residents of East Delhi's Vivek Vihar Phase 2 came out on the streets on Monday and shouted slogans against Delhi Police for its failure to prevent crimes in the capital.
Bajrang Lal Bokadia, a businessman owning and rubber and plastic factory in Dilshad Garden, was found on a chair with his hands tied, his mouth taped and injuries on his neck, inside his  cream-coloured bungalow A-2 in Vivek Vihar.
Along with him, the bodies of his two servants and driver Vinod Dubey were also found. The case has been handed over to crime branch.
The businessman was first strangulated and then his throat was slit with a weapon.
His 42-year-old driver Vinod used to stay in the bungalow. He had been working with Bokadia for the last 20 years. There were injuries on his face and blood on his neck.
The other two servants murdered were Bhola Singh, 32, and Arvind, 25. Both of them had wounds in their necks.
Said Arihant, Bajrang's grandnephew:  "My dadaji was tied to the chair with tape and clothes and was beaten up badly.  His two servants and driver were tied withstrings and their necks slashed.  It was difficult to identify one of them. There's blood all around."
The bungalow has three bedrooms and a big drawingroom-cum-hall on the ground floor, and a room on the floor.
Police brought in sniffer dogs, but couldn't find any clue.
Said Pukhraj, 65-year-old Bokadia's brother: "The room in which my brother was found was completely ransacked. He was badly beaten up."
According to Arihant, his father rang Bokadia at around 5:23 pm on Sunday, but he did not receive the call. "Normally he takes our calls. In the morning, we learnt about his murder".
Nobody in the vicinity heard any scream despite the murders of four people. Nor did anybody notice any suspicious movement outside the bungalow.
Police believe the assailants could have entered from the backdoor into the L-shaped building.
Bajrang Lal Bokadia had returned from a religious programme in Rajasthan on Saturday. Police believe the killers were keeping watch on his movement.
Bokadia's son and daughter-in-law live in Mumbai, while his married daughter also lives in Mumbai. The businessman spent much of him time in religious and philanthropic activities.
The family of Pukhraj, Bokadia's brother, also lives in the same locality Vivek Vihar. According to Pukhraj, his brother had gone to meet somebody in the afternoon and had returned home by evening.
Police is questioning the man whom Bokadia had last met on Sunday afternoon.