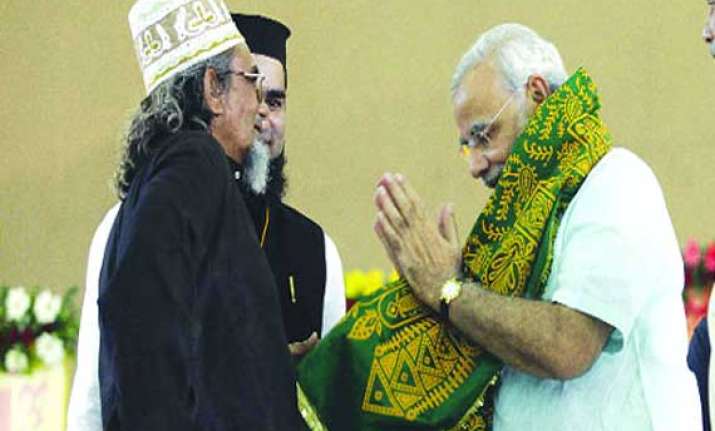 Ahmedabad: Muslim cleric Imam Mehadi Hasan Baba, who shot in fame after Narendra Modi had refused to don the skull cap offered by him in 2011, is among scores of others who will make a beeline for Varanasi to campaign against the BJP's PM nominee.
Among others who will be heading to the holy city to "expose" the development "claims" of Modi and to project him as "hardliner' in the temple town, will be leaders of AAP and Congress from Gujarat who are now free from electoral work in the state that went to polls on April 30.
"He (Modi) has not shown 'Sadbhavna'. He was the Chief Minister during 2002 riots and now his followers replaced 'Har Har Mahadev' (victory to Lord Mahadev) by chanting the slogans of 'Har Har Modi' (victory to Modi). A Soofi saint like me is disappointed," said Imam Mehadi Hasan.
Modi's refusal to wear the skull cap during his 'Sadbhavana' fast had caused a furore.
"The voice of me and my community has been suppressed in Gujarat, but I will raise my voice in Varanasi against communal practices of Modi," the cleric said even as he evaded a query that which political outfit he will extend his support to in Varanasi.
State Aam Aadmi Party (AAP) leaders feel that it has become necessary to "expose the development claims of Narendra Modi", who is pitted against the party convener Arvind Kejriwal in Varanasi.
"As elections are over in Gujarat, our party workers have started moving towards Varanasi to campaign against Narendra Modi and in favour of our leader Arvind Kejriwal," AAP's state unit spokesperson Harshil Nayak said.