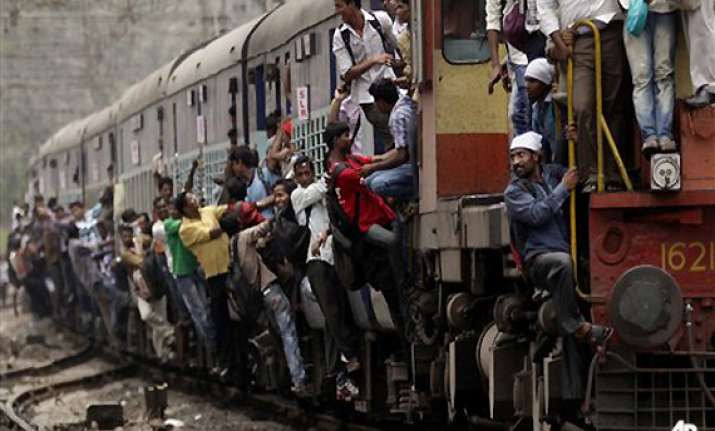 Mumbai, Apr 19: The continuing chaos on Mumbai's suburban train network today took a tragic turn when three young commuters leaning perilously out of a crammed compartment were killed and 20 wounded after hitting against a signal pole along the tracks.
The incident occurred between Nahur and Bhandup stations on the Central line when several people standing on the foot board and clutching at the window grille crashed into the pole, falling down in a heap.
While the crash proved fatal for the three identified as Prateek Cheda (24), Jiten Wada (19) and Ganeshkumar Yadav (20), residents of Dombivali, Kalwa and Mulund respectively, 20 others, including a railway police constable, were admitted to various hospitals, police said. Some with minor injuries were allowed to go after first aid.
The Railway Ministry announced an ex-gratia of Rs 3 lakh to the kin of each of the deceased and Rs 50,000 to those grievously injured. Rs 500 was announced for those who suffered simple injuries.
The Railways will bear the cost of treatment of the injured, according to Central Railway CPRO V A Malegaokar.
Meanwhile, an FIR has been registered against unidentified officials and workers of the Railway's signal maintenance department in connection with the incident. 
The FIR has been lodged under IPC sections 304 (a) (Causing death by negligence), 337 (Causing hurt by act endangering life or personal safety of others), 338 (Causing grievous hurt by act endangering life or personal safety of others) and 34 (Acts done by several persons in furtherance of common intention), S S Dhumal, senior inspector of Government Railway Police station, Kurla, told PTI. 
Train services on the Central and Harbour lines have been severely hit since Tuesday midnight following a fire in a signal cabin between Kurla and Vidyavihar stations causing heavy damage to signalling gears.
Malegaokar said the tragedy was the result of "extreme overcrowding" of the trains.
"The trains are extremely overcrowded and there are no violations of norms by the Railways," he said. 
"Of the 974 services, we operated a total of 792 services with only 182 cancellations," Malegaonkar said adding operations were likely to return to normalcy by Friday afternoon.
He claimed trains were running 20-30 minutes behind schedule as against 45 minutes yesterday.  Nearly 40 lakh passengers travel every day by the Central and Harbour lines.
Even though the authorities raced to set right the fault and claimed improvement in the situation, Mumbaikars continued to face a harrowing time.
With trains choc-a-bloc with commuters, running late, the traffic spilled over to the Eastern Express Highway linking Navi Mumbai to the city and other roads connecting eastern suburbs with south Mumbai, causing major traffic snarls. 
Unable to board crammed trains, people came out in their private vehicles, hired autos and taxis to reach offices. 
Scores of people travelled atop the trains under a blazing sun to reach their places of work as the locomotives moved at a snail's pace.
There were reports of taxi and autorickshaw drivers charging hefty sums for even short destinations.