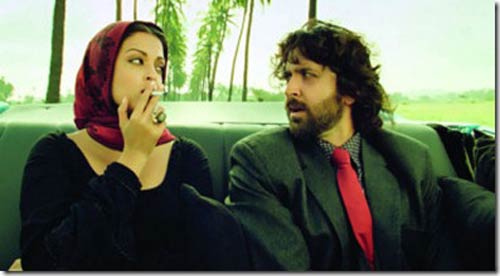 Mumbai's doctors are up in arms over a  ciggie-toting Aishwarya Rai in the film Guzaarish. The doctors have decided to sport black badges on the day of the film release, says a media report.This means that the Aishwarya Rai Bachchan and Hrithik Roshan starrer, Guzaarish, is sailing in troubled waters even before its release.  
The doctors are proteting over posters of the film showing the lead actress holding a cigarette. Doctors think  this will be sending a wrong message to the youth on smoking.Apart from the movie producers, medicos are upset with BEST, which is a government entity, for allowing such posters to be displayed on their vehicles.
"We are going to write a letter to BEST and request the filmmakers to remove these posters immediately. Aishwarya Rai Bachchan is a renowned actress and seeing her holding a cigarette may influence many young minds," said oncologist, Dr Pankaj Chaturvedi from the Tata Memorial Hospital.
As a mark of protest, Doctors for You (DFY), a not-for-profit organisation, has decided to wear black badges on Guzaarish's release date, which is scheduled for November 19.It was in 2005 that on-screen smoking was banned by then Union Minister for Health, Dr Anbumani Ramadoss, but the ban was revoked in 2009.
Dr PC Gupta from the Healis Sekhasaria Institute of Public Health, said, "This is a clear-cut promotion of smoking and we will send a letter to Aishwarya requesting her not to use this particular scene for promotion."
Not long ago Rai's father-in-law, Amitabh Bachchan, found himself in advertising trouble after the NGO, National Organisation for Tobacco Eradication (NOTE), filed a case against him for allegedly smoking a cigar in an advertisement.Producer Ronnie Screwvala  was unavailable for comment, says the report.