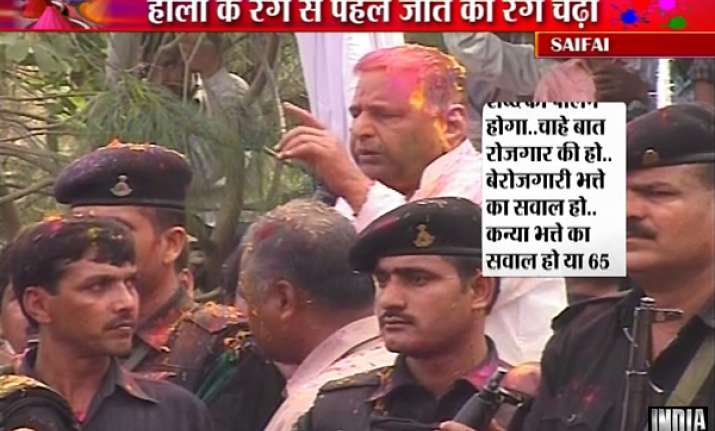 Saifai, UP, March 8: This hometown of SP strongman Mulayam Singh Yadav  today exuded a rainbow of colours on Holi, as the SP supremo minus his victorious son Akhilesh arrived here to celebrate their poll victory, coinciding with Holi, which is celebrated annually in a deluge of colours.

Akhilesh Yadav stayed back in Lucknow and did not go to Saifai to celebrate Holi.

Addressing the large number of supporters assembled, Mulayam Singh Yadav promised to implement each and every promise made in the party poll manifesto.

"You have  come here not only for the joy of Holi, but also for the joy of victory", Mulayam Singh said.

We are going to form our government with an absolute majority, he said.

The aged SP supremo appeared unhappy as the crowd became unruly. At one stage, Mulayam Singh threatened to return to Lucknow if the supporters did not stop being unruly.

The question however remain unanswered as to who would head the government - father or son. With most of the younger SP cadre opting for Yadav Jr, the dice seemed to be loaded in favour of the son.