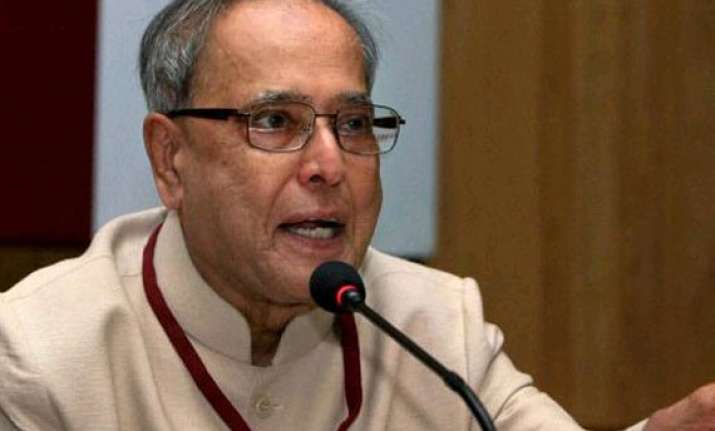 New Delhi: India will seek to cement its ties with the Arctic Council, an intergovernmental group of eight Arctic states, when President Pranab Mukherjee visits two of its members - Norway and Finland - next week.
Mukherjee is embarking on a six-day visit to Norway and Finland starting Oct 12.
The Arctic Council, whose members are Canada, Denmark, Finland, Iceland, Norway, Russia, Sweden and the US, last year agreed to grant observer status to India and China, which is keen to tap the vast energy sources in the Arctic region.
According to official estimates, the Arctic holds 13 percent of the world's undiscovered oil reserves and 30 percent of undiscovered gas deposits.
India also has a research station, Himadri, in Spitsbergen at Svalbard, Norway.
During the Norway leg of his trip which begins Oct 12, President Mukherjee will be given a ceremonial welcome at the Royal Palace in Oslo and also visit the Akershus Fortress in the city. He will also visit the Norwegian parliament.
He will speak via video link with Indian scientists posted at the Himadri station in Spitsbergen, which is India's permanent research base in the Arctic, Navtej Sarna, secretary (west) in the ministry of external affairs, told reporters while briefing them on the president's visit.
The president is being accompanied by 45 business people and senior educationists on the trip. He will be the first Indian head of state to visit Norway.
Both sides will be looking to increase cooperation in the fields of IT, new and renewable energy, fishing and deep sea fishing. Norway has expertise in krill fishing, and is also a leader in ship building and ports.
It also has the largest sovereign wealth fund, called the Government Pension Fund, of $850 billion, of which it has invested $4 billion in India so far.
Among the agreements to be inked would be in the field of education, trade and earth sciences.
In Finland, where he would be from Oct 14-16, President Mukherjee will visit the Village of Santa Claus in the town Rovaniemi, which is in the Arctic Circle. He will become the first Indian president to cross the Arctic Circle, said Sarna.
Among his other engagements are meeting with a business delegation and the Indian community, visiting the parliament in Helsinki and meeting the speaker. He will visit the Hietaniemi Cemetery, which is the place where Finland honours its soldiers who fought in World War II, and will lay a wreath there.
He will address a business seminar and also visit 'Arktikum' museum and Arctic Science Centre there.
Both sides will examine cooperation in clean tech, waste management, skill development and training, said President's press secretary Venu Rajamony.