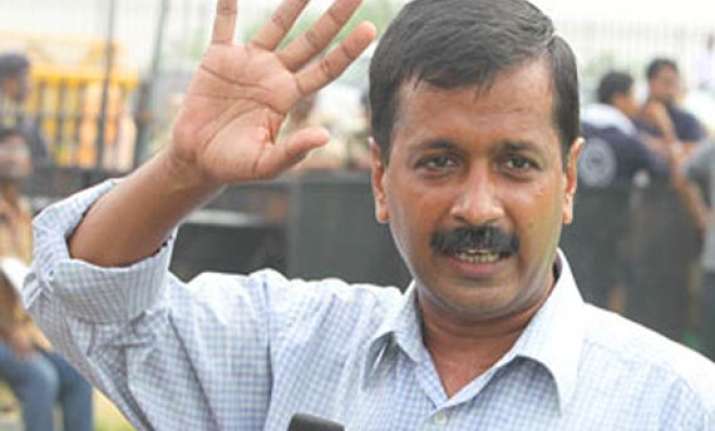 Mumbai, Dec 28: Senior Team Anna member Arvind Kejriwal said today that with the passage of Lokpal Bill meant to give "protection to the corrupt", the fight will now be for democracy.
 
Addressing a sparsely-attended gathering at MMRDA grounds here in the presence of Anna Hazare, Kejriwal lashed out at MPs saying they were "bonded labourers" of their parties.
 
"The time has come to make the people's representatives free from the clutches of their party high commands", he said.
 
"The party high commands do not want corruption to be eradicated because they thrive on corruption", Kejriwal said.
 
The Team Anna member derided the advice of the government to have faith in Parliament. "We can't have blind faith. No one can stop use from questioning Parliament", Kejriwal said.
 
 
"If you think this is democracy, it is not. It is the autocracy of party high commands and this autocracy cannot rid India of its poverty and illiteracy", Kejriwal said.
 
 
Kejriwal described how the Lokpal Bill passed by Lok Sabha will give protection to the corrupt.
 
"In this bill, anybody accused of corruption with get free legal aid from the government. Similarly, a public servant accused of corruption will be served notices and shown all evidences, before an FIR will be filed.
 
 
"Nowhere in the world can you find such jurisprudence. This Lokpal bill is a danger to our democracy.
 
"Out of 60 lakh government servants, only 3 lakh will come under the purview of Lokpal while the remaining 57 lakh will stay out of it.
 
"On the other hand, crores of people associated with private schools, colleges, trusts, hospitals, temples, churches will come under the Lokpal's purview. The CBI can then question even a school teacher, an Archbishop or a religious priest on issues of corruption.
 
"The government obviously thinks that the people in general are corrupt and public servants are not", said Kejriwal.
 
The Team Anna member said, three out of the five persons who will select the Lokpal will be from the government - the Prime Minister, the Speaker and a jurist appointed by government, while the other two are Leader of Opposition and Chief Justice of India.
 
"Similarly, government can sack the Lokpal if it wants to. This makes the Lokpal a puppet in the hands of government", said Kejriwal.
 
On the Whistleblowers Protection bill, Kejriwal said, the government is telling lies.
 
"Whistleblowers will be given protection by the CVC, which itself has only 232 employees, and no police. We had suggested that the Lokpal should provide protection to whistleblowers, because in the last one year, 13 whistleblowers have been killed in India", said Kejriwal.
 
The government, he said, has kept all corporates out of the purview of Lokpal, whereas we had suggested levying of five times the loss to national exchequer on corporates and that they be blacklisted for corruption.
 
Now that the government has forced its way out by getting its own Lokpal bill passed, the battle is now for democracy, said Kejriwal.