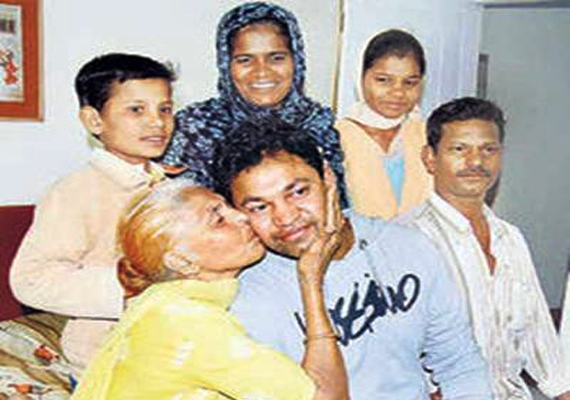 Bhopal/Khandwa, Mar 25: Destiny had separated them in 1988, but Google and Facebook united them after 24 years. This sums up the story of a family based in Khandwa, located around 200km from the state capital.
Sheru, now Shaaru Brali, separated from his family at a tender age of six while returning home along with his elder brother Guddu, who used to sell tea in trains at Burhanpur station, and another brother Kallu (Salim).

"While coming back to Khandwa from Burhanpur, Guddu fell from the train while Sheru was asleep inside. I reached Khandwa, but Sheru remained in the train and reached Kolkata," Kallu told PTI today.

"Guddu was forced to odd jobs as our father had deserted us and married another woman. Our mother Fatima Bi and Guddu took care of us and another sister, Shaqila," he said.

Sheru was caught at Kolkata railway station by a gang of beggars who forced him to join them. He later managed to escape from their clutches and came in contact with a fisherman's family which handed him over to Navjeevan Sanstha, an NGO which took care of orphaned kids, Kallu said.

An Australian couple adopted Sheru and took him to their country and renamed him as Shaaru Brali. He did his Bachelor of Business Administration (BBA) and joined the family's agriculture business.

Though he was doing well in life, somewhere in his heart he had memory of his family. He also had a photograph of his childhood with his brothers and sister and a faint memory of Brahmapur (Burhanpur), Kallu said.

The advent of Internet proved a boon for him and he started searching for Brahmapur on Google and networking site Facebook and later came to know the exact name, Burhanpur.