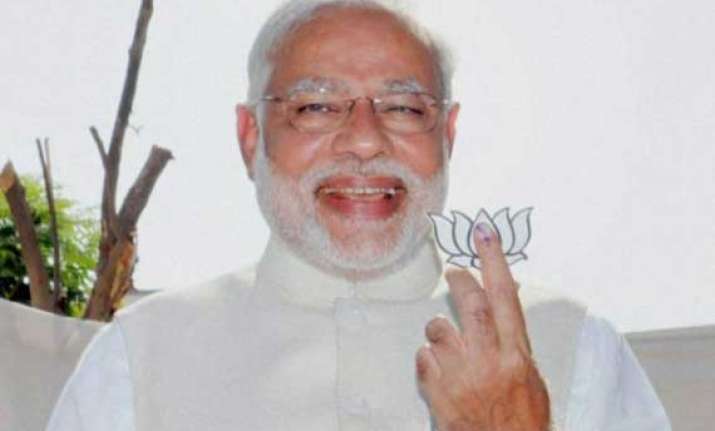 Ahmedabad: A day after Narendra Modi was booked for making a speech at a polling booth while displaying BJP's election symbol in violation of electoral laws, a preliminary probe by Gujarat police has found he addressed the gathering outside the restricted 100-metre radius.
"Just like any other case, we will investigate this case to find out the facts such as whether Modi was inside the 100-metre radius of the polling booth.
"Our preliminary probe (has) revealed that authorities had marked that limit with a white strip outside the booth, and the press conference was outside that limit," said a senior officer of Detection of Crime Branch of Ahmedabad police, which today initiated the investigation.  The model code for elections prevents canvassing within 100 meters of polling stations.
An FIR was lodged against Modi yesterday under section 126 (1)(a) of the Representation of People Act on the orders of the Election Commission for holding a meeting at the polling station. The provision bans holding of public meetings during the period of 48 hours ending with the hour fixed for the close of the poll.
A non-cognizable complaint was also filed against the TV channels which had broadcast the conference under section 126 (1)(b) of the RP Act.
"There is only one FIR against Modi for violating 126(1)(a) of the RP Act and section 188 of Indian Penal Code for violating CrPC section 144, which prohibits more than four people from gathering for a specific purpose. This is a cognizable offence, which falls under the jurisdiction of police. Police inspector Harpal Rathod became the complainant on behalf of government," the officer said.