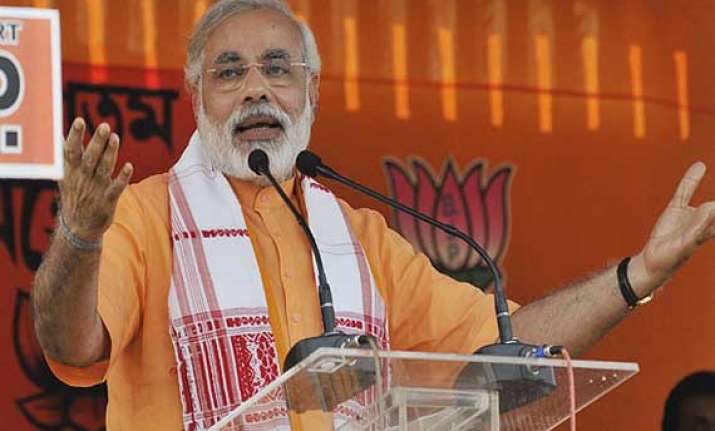 Ahmedabad: Gujarat Chief Minister Narendra Modi met booth presidents of 17 polling booths from Vadodara Lok Sabha seat here today to appreciate their efforts in ensuring a high voter turnout in his constituency.  
According to a press release issued here today by the Gujarat state BJP, these 17 Vadodara polling booths, where BJP's prime ministerial nominee Modi stood as contestant, saw a more than 90 per cent voter turnout on April 30.  
Before polling, it was announced by the BJP that Modi would personally meet and felicitate all booth presidents who do exceptional work in the Vadodara Lok Sabha seat.  Keeping the promise, Modi invited Vadodara's 17 booth presidents to the BJP state headquarters at 'Shri Kamalam' in Gandhinagar and congratulated them for enabling more than 90 per cent voter turnout in their respective booths.
Along with Modi, Gujarat state revenue minister Anandiben Patel, Vadodara seat in-charge Saurabh Patel and BJP treasurer Surendra Patel were also present on the occasion.  
Gujarat saw a record 63.31 per cent voter turnout this Lok Sabha election, especially after Vadodara became the focus of attention, after Modi decided to contest from here.  The Congress has fielded its party general secretary Madhusudan Mistry from Vadodara against Modi.