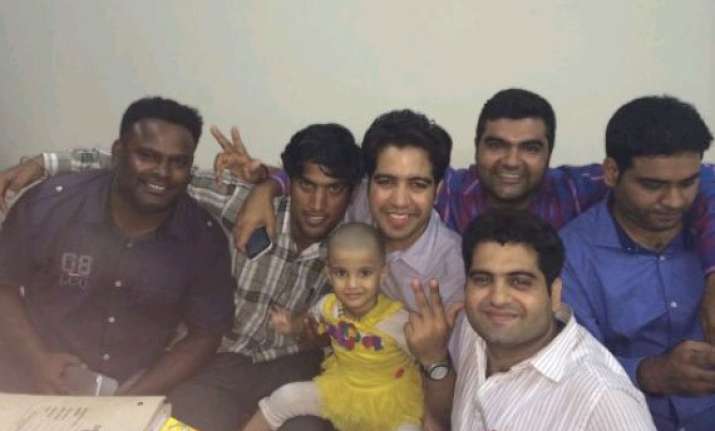 New Delhi:  Chocolates and Frooti mango juice, her favourite snacks, are what three-year-old Jahnvi had after being reunited with her family—a week after she went missing from Delhi's India Gate.
"The moment she saw us, Jahnvi called for me and started crying. She then leapt forward so that I could take her in my arms," Rajesh Ahuja, her father, told IANS Monday, a day after his daughter was recovered from west Delhi.
Ahuja, a part-time photographer, said that his daughter, the couple's only child, loves drinking Frooti, and it was the "first thing we gave her when she asked for something to eat".
"She is eating well and is doing fine. Though she slept a little late Sunday, she slept soundly," the father, not hiding his happiness, added.
 
Jahnvi had gone missing around 9.15 p.m. Sep 28 from India Gate where she had gone with her parents for an outing. A missing person report was registered at the Tilak Marg police station. She was found Sunday night after a college student informed the police and her uncle about spotting a little girl with shaven head and with a placard hanging around her neck with her name and her uncle's contact number.
 
Ahuja recalled that his daughter called out to him twice - "Papa, Papa!", the moment she spotted him at the Mayapuri Police Station where she was taken after being found near a vegetable market in west Delhi.
He said that his daughter, who was enrolled in a play-school two months ago, has not shown any signs of "stress".
"She is taking normal diet and is asking for her favourite items (chocolates and cold drinks) - something she has always done," he said.
 
Ahuja said they had not yet quizzed the child about where she had been, or what happened with her. "We are not going to ask her for the next two days where she was, with whom she was and what she ate last week. We do not want to put her through any kind of trauma."
Another relative said that the little girl slept with her arms around her mother, Sheetal, who had not eaten anything for the past three days.
"Her medical examination reports are all normal," the relative said. Jahnvi has no external or internal injuries, police said.
Ahuja admitted that he and his wife had been little "careless" and should have paid more attention towards their daughter at the India Gate lawns.
He has a word of advice for other parents: "As soon as the child learns to speak, parents should ensure that he or she memorises the residential address and phone number of the parents," he told IANS.
 
Ahuja added that parents should pin an ID card with their coordinates on the child's dress when going on outings.