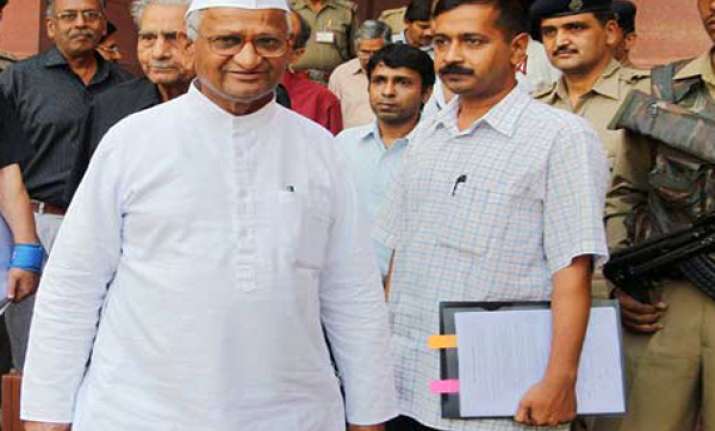 Mumbai, April 14 : Team Anna member Arvind Kejriwal on Friday blamed the media for Anna Hazare's anti-corruption campaign gradually losing steam.
Addressing over 300 members of India Against Corruption (IAC) in Santacruz here, Kejriwal said in the race for TRP ratings, the media had initially covered Anna's movement, but later "tried to kill the movement".
Kejriwal alleged that there are  16 "corrupt" ministers in the Union Cabinet,  and the fight against such politicians would be revived soon by exposing them, the Mumbai newspaper DNA reported.
"There are 16 corrupt ministers in the Union cabinet. We plan to hold a few press conferences in the last week of this month to expose these ministers," Kejriwal said.
Kejriwal said Anna Hazare's next course of action over the Lokpal Bill would be decided once the Parliament's budget session concludes.
"Immediately after the agitation, Team Anna was targeted and was given anti-publicity. A fake CD related to Prashant Bhushan was run and that too without proper verification. Kiran Bedi and I were also criticised over a few issues," he said.He added that there are some good people in journalism, but they were also "influenced".
"Every week, the editors were called and meetings were held, where the government advises the media-people as what is to be done, which is later followed by the media," he alleged.
Kejriwal also said that there is a need to strengthen the network of people to put up an aggressive fight over the Lokpal Bill.
"There is a need to strengthen the network among Anna supporters. An Anna sms card has started sometime back. Supporters buying the card, would be kept informed about Anna's movement, which ensures that the anger against corruption continues to fire up in the minds of the activists," he said.
He also appealed to the activists to create Anna Charcha Samuh (Anna discussion groups) to hold discussions at local level so that the activists can understand various issues raised by Team Anna.
"There are many people who are participating in the agitation, but they are yet to understand the Lokpal bill properly. I appeal to people to hold discussions at their local level, which will help them figure out various issues. They can also send us suggestions and feed back," he said.
"Only when we understand the issues, a revolution can be brought," he added.Kejriwal urged the activists not to mix up any local issues with that of Lokpal and focus on the bill.
"If you want, you can involve yourself in solving local issues, but you should not divert your mind from Lokpal. Your primary focus should be Lokpal," Kejriwal said.
IAC has decided to start a monthly news letter 'IAC News', which will be circulated among Hazare's supporters as well as common people free of cost.
The eight-page newsletter in Hindi will inform and elaborate the activities and views of the Anna and his supporters.
The newsletter, which will be started by April 21 and there will be 10,000 copies published initially, an IAC member said adding that they had set the target to publish 50,000 copies.If the demand surges for the news letter, then it would also be made weekly, the member added.
Meanwhile, a 'referendum' initiated by India Against Corruption found that over 97 per cent of 28,000 people in Mumbai have backed Kejriwal on his stand that there are 162 MPs with criminal charges against them.Mumbaikars were asked to answer to the query - "Who has insulted Parliament?  
The 162 MPs who have serious charges of murder, rape etc and MPs who throw chairs on each other, watch blue films, tear bills, display cash or Arvind Kejriwal who stated the above facts."
Kejriwal had in recent speeches raised the issue of pending criminal charges against 162 sitting parliamentarians.
"Of the 28,470 people polled, 27,672 people supported Kejriwal for his statement while 342 said that Kejriwal had insulted the Parliament with his comment. 456 people said both have insulted the parliament," a member of IAC said.