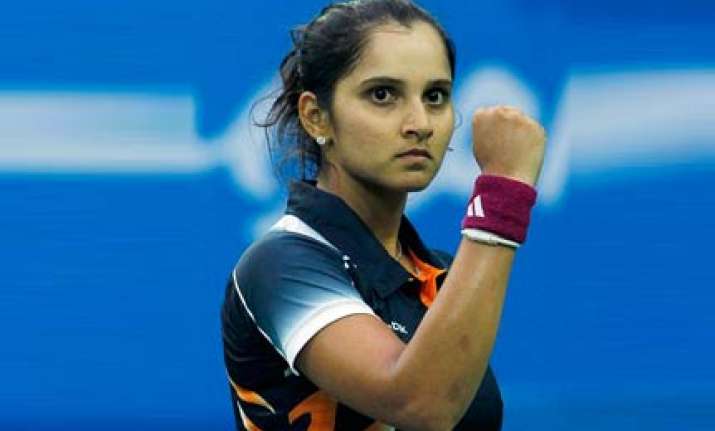 New Delhi, Nov 25: At the beginning of the season, Sania Mirza was unsure where her career was heading due to a recurring wrist injury and loss of form but the Indian tennis star says her confidence has sky-rocketed once again after four medals in back-to-back multi-discipline sporting events.
The Hyderabadi clinched two medals at the Asian Games after winning two at the Commonwealth Games in October.
She could not convert the Doha singles silver into gold at Guangzhou but the 24-year-old is satisfied to get back her fitness and rhythm which she said has brought her career back on track.
"A lot of people had written me off. They did not think, I could win a medal at Asian Games or at Commonwealth Games. I worked hard all through this year to be fit for these two events after the injury. So four medals in two months is a big achievement for me," Sania told PTI before catching a flight to Hyderabad.
"Nobody expected (medal) from me. The hopes were from badminton and shooting. I was unseeded in a decent field (at Guangzhou). I was a bit unlucky in the semifinals. But before that, defeating (Tamarine) Tanasugarn was satisfying. She's a regular on the Tour, in top-50, and doing well. And she had beaten me at Guangzhou early this year. So it gives me confidence that I am good enough to be there," she added.
Sania, who won a bronze in singles and silver in mixed doubles, is hoping the Tour will unfold differently for her in 2011.
Sania also said India's five medal haul at the Asian Games without senior pros Leander Paes and Mahesh Bhupathi is a good sign for Indian tennis.
"The (Indian) women's team is usually weak but our men's team was also weak without Leander, Mahesh and Rohan Bopanna. Somdev was amazing and winning that men's doubles gold was even more amazing.
"The youngsters took up the opportunity and showed that India have a bright future."
Sania said winning sliver in mixed doubles was extremely satisfying since she teamed up with Vishnu Vardhan, who had hardly played at the big stage.
"It's different when you play with Leander or Mahesh. I have always followed them. They have so much experience behind them, but here I was playing with a guy who had not played mixed doubles at that big a stage before.
"It was different since, I had to play the senior's role. Great I could do the job and we won silver," she said.
Sania said she is signing off the season with some good memories and the focus will shift to Olympic preparations when she starts training again. PTI