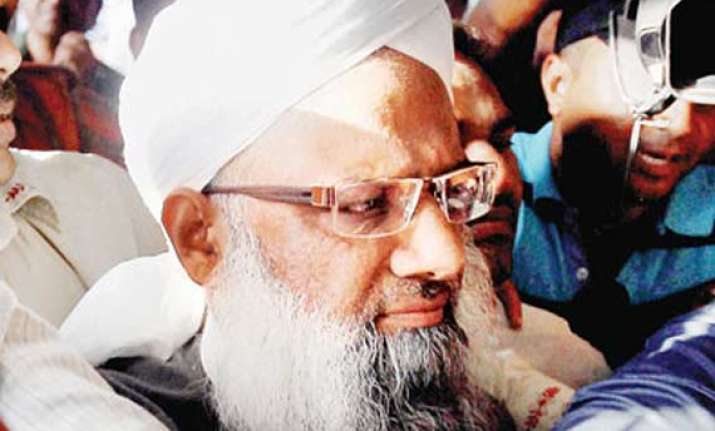 Ahmedabad: The Gujarat High Court here today granted bail to terror accused Maulana Abdul Quavi, a Hyderabad based cleric who was arrested by Crime Branch on allegation of taking part in anti-national activities with the aide of Pakistan-based terrorist outfits.  A division bench of justices Anant S Dave and Moninder Pal granted bail to Quavi on a surety of Rs 50,000 and directed him to surrender his passport.  
The court has also directed Quavi to appear before the Ahmedabad city Crime Branch office once a month.  Quavi had sought bail from the High Court last month in the alleged '2003 ISI conspiracy case', after a special court under Prevention of Terrorism Activities Act (POTA) had rejected his plea in the same case.
The state agency, Detection of Crime Branch (DCB) had alleged that Quavi was involved in anti-national activities with the help of some of the Pakistan-based terror outfits along with Inter-Service Intelligence (ISI).  Additional principal judge Geeta Gopi of the Special POTA court had on July 2 rejected Quavi's bail plea on the ground that he remained absconding for more than 11 years.  Quavi's advocate M A Saiyed had submitted before the high court that as the probe agency DCB has filed the charge sheet in the case, there is no reason to keep him behind the bar.
He also submitted that the witness, who had named Quavi in the alleged case of terrorism, had later turned in court.
The state, on behalf of the probe agency DCB, on the other hand had submitted before the High Court that Quavi remained absconding for more than 11 years and was involved in hatching conspiracy against India and participated in anti-national activities.
The state submitted that a co-accused in the case has also named Quavi as the conspirator of waging war against the country.
Quavi, the founder of madrasa Jamia Ashraf-ul-Uloom in Hyderabad, was arrested from New Delhi airport on March 24 this year by a team of DCB. He has been named 'wanted' by DCB for last 11 years.
DCB has filed a charge sheet against Quavi last month saying that Quavi (58) allegedly took part in the proxy war with direct or indirect support of Pakistan's ISI and other terror outfits like Lashkar-e-taiyaba (LeT) to avenge post-Godhra riots. It also alleged that Quavi has sent several Muslim youths to Pakistan based training camps run by LeT and Jaish- E-Mohammad to spread terror in India.  Quavi is currently lodged in Sabarmati Central jail in Ahmedabad.