New Delhi: Peshwa ruler Bajirao's wife Mastani's grave is a linking bridge between the Hindus and Muslims living in Pabal village of Pune. The people from both communities visit her grave with equal devotion irrespective of their beliefs.
For the Hindus, the grave of Mastani is her 'samadhi', while the Muslims call it a 'mazaar'.  Hindus consider Mastani as Hindu while Mulsim think she was a Muslim, for the respective reasons
"Because Mastani was Maharaja Chhatrasal's daughter, the Hindus of Pabal consider her as a Hindu. The Muslims think she was a Muslim as her mother, Ruhaani Bai, was a Persian Muslim. Despite their respective faiths, there's never been a dispute in the village on this matter," says Sanjay Ghodekar, the principal of Padmani Jain Mahavidyalaya in Pabal, who has done an M.Phil on Mastani in 1997 based on his six-year long extensive research.
Mastani was the second wife of Peshwa Bajirao I of the Maratha Empire. As per the history books, Bajirao rescued the king of Bundelkhand, Maharaja Chhatrasal when he was attacked by a Mughal chief Mohammad Khan Bangash.
In gratitude, Chattrasal gave Bajirao his daughter Mastani, and a third of his kingdom, including Jhansi, Sagar and Kalpi. He gave 33 lakh gold coins to Bajirao. He also gifted a diamond mine to Bajirao after his marriage to Mastani.
Chhatrasal had 13 wives and Mastani was born from one of his wives Ruhaani Bai, a Persian Muslim.
Bajirao was already married to Kashibai but he also tied the knot with Mastani following all the required rituals. However, the fact that she was a Muslim, didn't go well with his family members.
Bajirao and Mastani's unique love story garnered a special place in history books and has inspired many.
Noted filmmaker Sanjay Leela Bhansali is coming up with a movie on their love story - Bajirao Mastani, starring Deepika Padukone and Ranveer Singh.
Ever since the movie created a buzz, the village has witnessed people coming in large numbers to see the grave, reported a leading daily.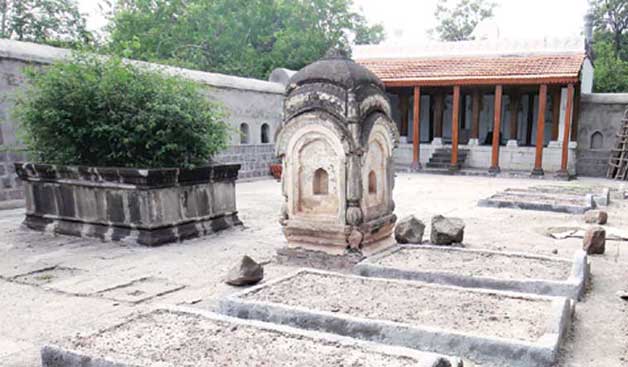 The grave of Mastani is situated at a distance of 60 kms from Pune in the village Pabal. It is located in the middle of a 2,000 sq ft land surrounded by a boundary wall and three doors, while the fourth side has an elevated platform made for reading the namaz.
A few days back, when thieves ruined Mastani's grave, both Hindus and Muslims forced the archaeological department to restore the grave.
"The day when the grave was restored, while the rituals were performed as per the Muslim tradition, the Hindus too joined in with garlands to place it on the grave," says Baba Inamdar, nephew of the caretaker, who is also the vice-president of All India Muslim and OBC Organisation. "There's no restriction on anyone's entry here, no matter who belongs to which religion," he said.
While Bajirao Mastani's love story is an example of unconditional love beyond the constraints of religion, people of Pabal village have carried the legacy forward.
"If Maharaja Chhatrasal, Bajirao and Mastani did not allow religion to come between them then who are we to decide whether Mastani belonged to Muslims or the Hindus," Inamdar further added.