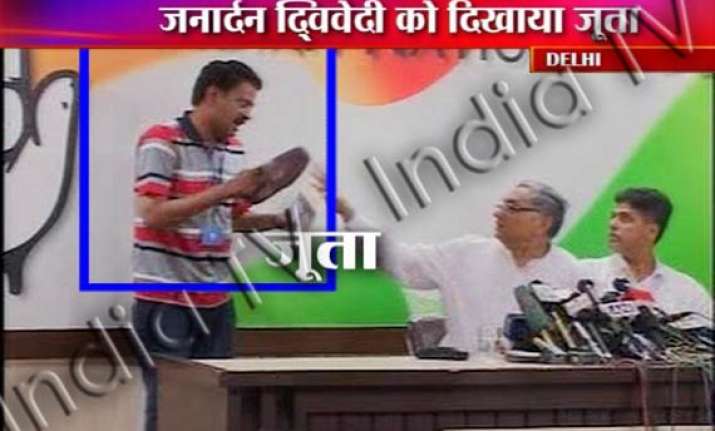 New Delhi, Jun 6: High drama was witnessed at the AICC headquarters here today when a person posing as a journalist tried to attack party General Secretary Janardhan Dwivedi with a shoe, apparently miffed over the treatment meted out to Swami Ramdev.

The person, who was carrying an identification as Sunil Kumar of Nav-Sanchar Patrika from  Jhunjhnu, Rajasthan, came close to Dwivedi, removed his shoe and stopped short of hitting him with it.

The middle-aged man, wearing a striped T-shirt, was heard telling Dwivedi that "you cannot stop us from asking questions."

The man was immediately caught by the a AICC staffer and some journalists and was removed from the briefing hall while being beaten up. He was then taken away by police.

Dwivedi described the incident as "pre-planned" attack as he was to speak against Ramdev and his agitation which Congress leader said was conducted at the behest of Sangh Parivar.

"Whatever, I said has been proved by this one man. Had this (attack) not been orchestrated, the person would not have asked favourable questions so that there were no doubts," he said.

On his part, Sunil Kumar said from the police jeep: "I have done nothing wrong. I demand justice. Maine question kiya tha. Maine kiya kya hai."

The assailant Sunil Kumar claimed to represent Nav Sanchar, a four-page fortnightly tabloid, which has ceased publishing for the last one year from Jhunjhnu, Rajasthan.
 
The editor-owner of the newspaper Mukesh S. Mund told a news channel that Sunil Kumar never worked for the  paper, but worked as an English grammar tutor in his coaching institute, but left the job eight months ago.
 
Janardhan Dwivedi, who had almost finished his press briefing, in which he lambasted Swami Ramdev as the 'mukhouta' (mask) of BJP-RSS, was taken aback when Sunil Kumar approached him with a shoe in his right hand.
 
Dwivedi stood up to stop him, and immediately Congress volunteers alongwith several mediapersons overpowered the assailant and took him outside. Sunil Kumar was taken to the  Tughlak Road police station.
 
Before trying to hit with the shoe, Sunil Kumar during the press briefing had asked a question. The question was: "With the BJP on the sidelines and Ramdev and others out,  and with the recent Assembly elections win, does not the Congress feel that there is no Opposition in the country?
 
Dwivedi's reply was precise. "Nobody should be under the false impression that there is no Opposition in the country".
 
After a few questions from some other mediapersons, Sunil Kumar lunged towards Dwivedi with his shoe.