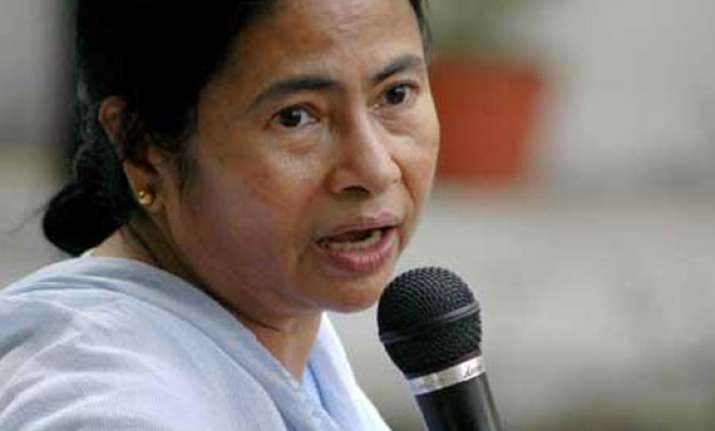 Kolkata, Nov 8:  A day after 27 policemen and six villagers were injured in clashes in West Bengal's Birbhum district, the ruling and the opposition parties Wednesday traded charges.
Chief Minister Mamata Banerjee termed the incident as "pre-planned" but "unfortunate" and ordered a probe, while denying any police excesses and maintaining that police did not open fire at protestors.
District Superintendent of Police Rishikesh Meena, however, has been asked to proceed on leave for police allegedly acting "of its own" to raid the village without consulting higher-ups or the government, Banerjee told reporters at the state secretariat.
The clashes occurred in a confrontation related to extraction of coal by DVC Emta Coal Mines Ltd, a joint venture company, in Dubrajpur, about 226 km from here.
Some landowners had opposed additional land acquisition for the project and seized an earth-moving machine last year.
Following a complaint from the company, a police force went to recover the machine, but met with resistance from the villagers.
Among those injured in the clashes were three senior police officers.
"The incident is unfortunate and should not have happened. I'm sorry. The villagers are not at fault. They were provoked by some people who spread lies and pre-planned it.
"As per the reports with me, the police did not fire. During the confrontation, a couple of villagers sustained serious injuries. One policeman is battling for life while three are serious," Banerjee said.
Denying that the matter was related to land acquisition, Banerjee said the state government's policy was not to acquire land forcibly for industries.
While ruling out any action against the villagers, Banerjee also lauded the police for "showing patience and not over-reacting despite being hit by arrows".
"I assure the villagers that no action will be taken against them. We were, we are and we will be with the villagers; we are with peasants. We won't deviate from our policy of not taking land forcibly," the chief minister said at Writers' Buildings.
Banerjee said Additional Director General of Police (Law and Order) Surojit Kar Purokayastha had been asked to hold an inquiry and ascertain the circumstances that led to the clashes and who were behind it.
However, countering the chief minister, leader of the opposition Surjya Kanta Mishra accused the government of putting pressure on doctors not to mention bullet injury in the medical reports.
"Police have opened fire. Bullets have been found at the spot. Television channels are showing such footage. Villagers have sustained bullet injuries. Now there is pressure on doctors so that the medical reports do not mention bullet injury," Mishra, a Communist Party of India-Marxist (CPI-M) politburo member, told reporters.
Mishra also expressed his dismay over allegations by industries minister Partha Chatterjee, who visited Birbhum district Wednesday, that the "CPI-M and a section of the Congress" were behind the trouble.
"Even before any investigation, the minister has said how it all happened, while the chief minister says she needs more information. What is the need for a probe then? There is evidently a lack of coordination in the government ranks," he said.
"We need to know why the police fired? Who ordered the firing? I don't believe that a police superintendent will get involved in such an incident by gathering personnel from so many police stations if he doesn't have a directive from the higher ups," he said.
Congress MP from Jangipur and son of President Pranab Mukherjee Abhijit Mukherjee also visited Birbhum and met the injured in hospital.
"It is very surprising that such incidents are occurring during the regime of a party that rose to political prominence taking up the fight against land acquisition," Mukherjee said.