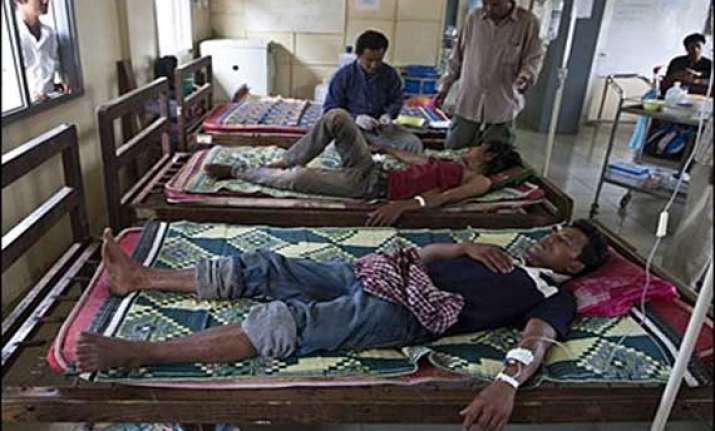 Agartala: Medecins Sans Frontieres (MSF), an independent international medical humanitarian organisation, has extended its help to control the outbreak of malaria in Tripura, where over 60 people have died due to the disease and thousands have fallen ill in the past one month, an official said here Thursday.
A three-member MSF team arrived here Wednesday along with medicines.
"At least 60 people, including 42 children, have died due to malaria since the first week of June," health department spokesperson Pranab Chatterjee told IANS.
"The MSF has extended its help by providing medicines and expertise to deal with the outbreak of malaria in Tripura," Health and Family Welfare Minister Badal Choudhury told reporters.
He said the MSF has also assured the state government to supply more medicines to help the state authorities in controlling the incidence of the disease.
"Over 1,01,025 people have fallen ill with malaria and fever after the outbreak of the disease. Of the 1,01,025 ill people, malaria germ was found in the blood of over 17,125 people," he said.
The outbreak of malaria and fever were reported from the tribal-dominated mountainous areas of 11 sub-divisions under five districts -- Dhalai, Gomti, Khowai, North Tripura and South Tripura.
All the affected people have been admitted to government hospitals. Of the 60 deaths, over 40 percent people died in their homes.
The unofficial death toll stands at 85, said health department sources.
The state health minister has sent an urgent letter to union Health and Family Welfare Minister Harsh Vardhan to send medicines and experts to deal with the situation that arises after the outbreak of malaria.
"There is a huge shortage of medicines for critical patients suffering from malaria in Tripura," Choudhury said, adding that the state government has sent an SOS to Tripura officials in Guwahati, Kolkata and Delhi to urgently send adequate quantities of anti-malarial medicines.
A team of experts from the National Vector Borne Disease Control Programme (NVBDCP) led by its special director Awadesh Kumar recently visited malaria-affected areas in the state.
Chief Minister Manik Sarkar, who is regularly holding meetings with all concerned to review the latest situation, has directed 11 ministers to rush to the malaria-affected areas to supervise the disease control programme and necessary services.
Leave of all doctors, nurses and health workers has been cancelled.
A helicopter is on standby to ferry doctors and patients in an emergency.
All the northeastern states besides West Bengal, Odisha, Jharkhand, Chhattisgarh, Andhra Pradesh, Maharashtra, Gujarat and Karnataka are highly malaria prone. Over a hundred people die every year due to the disease in the seven northeastern states, excluding Sikkim.
According to NVBDCP, malaria claimed 1,018 lives in 2010 in India, 754 in 2011, 519 in 2012 and 440 in 2013.