Follow us on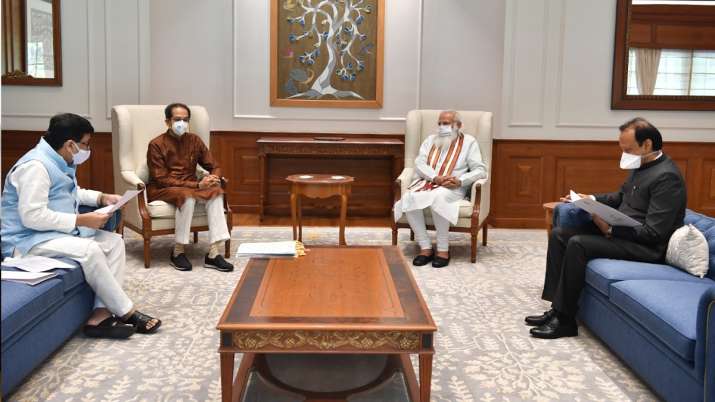 Maharashtra Chief Minister Uddhav Thackeray met Prime minister Narendra Modi on Tuesday and discussed issues related to the Maratha reservation, Metro car shed and GST compensation. Deputy Chief Minister and senior NCP leader Ajit Pawar, and senior Congress leader Ashok Chavan accompanied Thackeray.
"Chief Minister of Maharashtra Shri Uddhav Thackeray, Deputy Chief Minister Shri @AjitPawarSpeaks and Cabinet Minister Shri @AshokChavanINC called on PM @narendramodi. @OfficeofUT @CMOMaharashtra," the PMO tweeted.
"Discussed issues related to the Maratha reservation, Metro car shed, GST compensation with the Prime Minister," Thackeray said. He said the state government wants to move the car shed to Kanjur. The state and the Centre both claim the land as theirs.
Thackeray said the issue of giving Marathi the status of classical language is also pending with the Centre. He said the prime minister assured to look into these issues.
Pawar, who is also the Finance Minister of Maharashtra, said issues pertaining to GST compensation was also discussed in the meeting.
Thackeray and his cabinet colleagues of the Mahavikas Aghadi, a coalition of mainly the three parties - the Shiv Sena, NCP and the Congress, are in the national capital to discuss issues ranging from the contentious Marathi reservation and aid for the state post Cyclone Tauktae, among others. 
The Supreme Court had in May termed the state law on Maratha quota as "unconstitutional" and held there were no exceptional circumstances to breach the 50 per cent reservation cap set by the 1992 Mandal verdict. The judgement came on a batch of pleas challenging the Bombay High Court verdict which had upheld the grant of reservation to Marathas in admissions and government jobs in the state.
The Maharashtra State Reservation (of seats for admission in educational institutions in the State and for appointments in the public services and posts under the State) for Socially and Educationally Backward Classes (SEBC) Act 2018 was enacted to grant reservation to people of the Maratha community in the state in jobs and admissions. The Bombay High Court, while upholding the law in June 2019, had held that 16 per cent reservation was not justifiable and the quota should not exceed 12 per cent in employment and 13 per cent in admissions.
READ MORE: After SC setback, Uddhav govt offers 10% reservation to Maratha students under EWS category
READ MORE: Supreme Court's decision to quash Maratha reservation unfortunate: Uddhav Thackeray