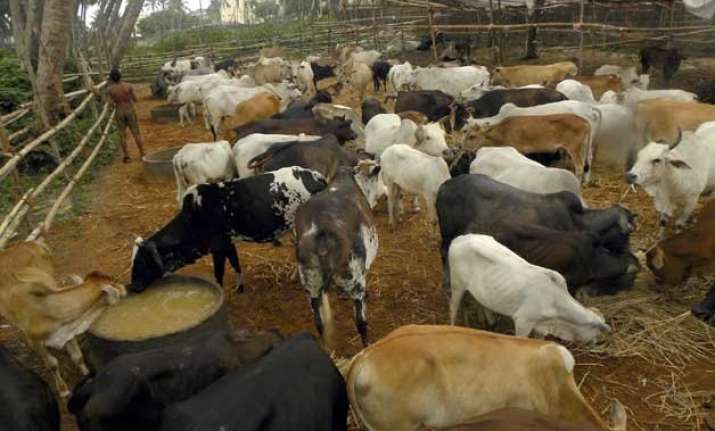 New Delhi: Beef has been banned in Maharashtra with President Pranab Mukherjee giving his assent to the Maharashtra Animal Preservation Amendment Bill 1995.
The action has been taken nearly after 19 years the Maharashtra Assembly passed the Bill during the BJP-Shiv Sena rule in 1995. Now anyone found to be selling beef or in possession of it, can be jailed for five years and fine upto 10,000 rupees.
The slaughter of cows was previously prohibited in the state under the Maharashtra Animal Preservation Act of 1976, reported The Indian Express.
The new act will however allow slaughter of water buffaloes, which provides carabeef, generally seen as inferior quality meat  that makes up only 25 per cent of the total beef market in the state. Beef traders however claimed that the move will not only vendor thousand jobless but will also drive up the cost of other meats.
"Thanks a lot Hon President Sir for the assent on Maharashtra Animal Preservation Bill. Our dream of ban on cow slaughter becomes a reality now," Chief Minister Devendra Fadnavis tweeted.
"This is a historic step, which has cultural as well as economic implications for the state. We had passed this Act when we were in power in 1995 and had sent it for the President's nod in 1996. Subsequent governments in the state, however, failed to do the needful to get the Bill implemented. We had promised in our manifesto to bring this Bill and we have managed to do it," BJP MP from Mumbai Kirit Somaiya said.
Beef, generally seen as the poor man's meat, costs almost a third of mutton. Mumbai alone consumes nearly 90,000 kg of mutton every day, sold through 900 licensed stalls and an equal number of illegal stalls.
Beef traders said they are checking if they can take legal recourse. "We are now holding deliberations to see if we can challenge this in any way. The beef traders have been impacted but it will be the farmers who will be affected the most. Who will care for the old and infirm animals that were earlier sold for meat?" Arif Chowdhury, an office bearer of the All India Jamiatul Quresh, an organisation of beef traders, said.
"A recent government report has stated that there is nearly 61 per cent fodder shortage in the state. By banning the slaughter of old and infirm animals, the government is doing grave injustice to the healthy animals and farmers of Maharashtra," Rajendra Dhende,  a beef trader from Sangli, said.
Right-wing groups and Jain organisations have been asking for shutting down of the abattoirs and beef trade in the state.
Beef traders across Maharashtra were on strike for over a week in February to protest against the alleged harassment being meted out to beef traders. Fadnvais had later assured protection to beef traders after a delegation met him, which led to the strike being called off.