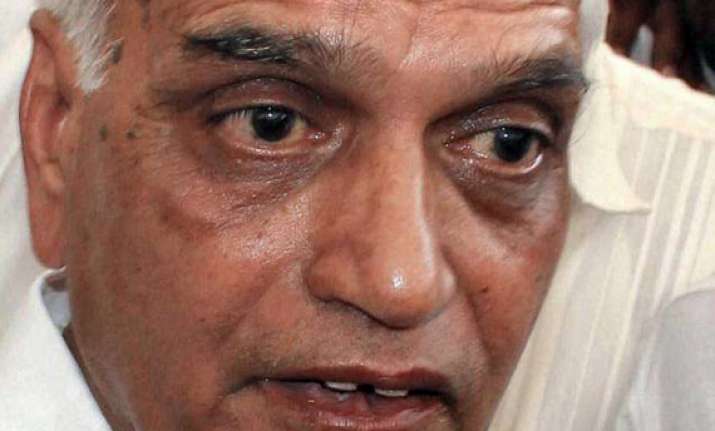 New Delhi, Dec 4: Sacked Rajasthan Minister Mahipal Maderna, arrested in Bhanwari Devi abduction case, was brought to Delhi today by the CBI for further questioning in the case. 

59-year old Maderna was arrested on Friday in Jodhpur by the CBI along with Parasram Bishnoi, the brother of Congress MLA Malkhan Singh, hours after it filed charge sheet against three other arrested accused. He was sent to CBI custody till December 9 by the Jodhpur court.

Agency sources said Maderna was moved to the national capital for further questioning in the case.

The CBI officials had yesterday alleged that they were being threatened. 

Bhanwari, posted as an auxiliary nurse midwife at a sub-centre in Jaliwada village went missing on September 1 after a CD allegedly showing Maderna in a compromising position with her was circulated in political circle.

On the other hand, there is no information on the whereabouts of Indra Bishnoi, sister of Malkhan Singh Bishnoi and a key witness in the Bhanwari Devi case.

Maderna, who represents Osian Assembly constituency, was sacked from the Cabinet on October 16 by Chief Minister Ashok Gehlot after his name cropped up in the case.

"I have been victimised as part of a political conspiracy and I will keep fighting until I come out clean," Maderna told reporters before entering the airport in Jodhpur. He was flown to Delhi on a Jet Airways flight.

When contacted, a CBI spokesperson said, "This is just to facilitate the investigation in the case".

Before this, the CBI had also brought Shahabuddin, another accused in the Bhanwari case, to New Delhi on October 22 and kept him here for 4 days.

CBI sleuths visited Indira's house on Sunday but found it locked.

Meanwhile, Police are investigating the CBI complaint that Malkhan Singh Bishnoi had threatened one of its officers with dire consequences after the arrest of Paras Ram Bishnoi on Friday night.

"We are investigating the matter and trying to find out that weather the person who called up the CBI officer was Malkhan Singh Bishnoi himself," a police officer said.

Malkhan Singh denied having made any such call.