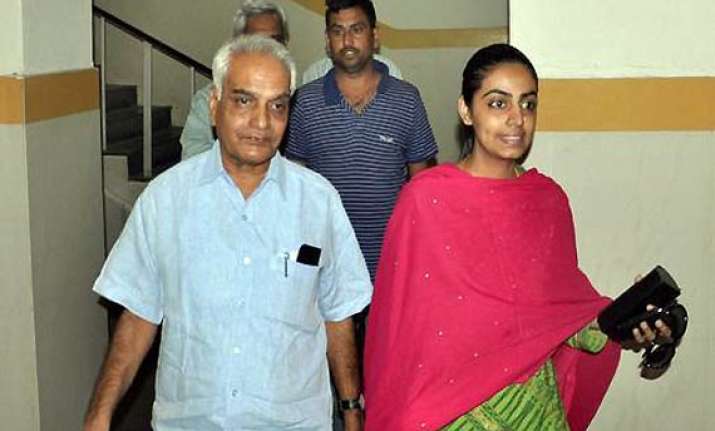 Jodhpur, Dec 2: Sacked Rajasthan Minister Mahipal Maderna was today arrested by the CBI along with the brother of a ruling Congress MLA in Bhanwari Devi abduction case, hours after the agency filed a charge sheet against three other accused.

Maderna, 59, who was sacked from Ashok Gehlot cabinet on October 16 after his name cropped up in the case, and Parasram Bishnoi, brother of ruling party MLA Malkhan Singh, were taken into custody this evening after another round of questioning, CBI sources said.

The arrest came after the agency filed its first charge sheet in the sensational case in a court here, charging the three accused - Shahabuddin, Baldev Jat and Sohan Lal, who are in judicial custody, with entering into the conspiracy to abduct the 36-year old nurse with an intent to murder her. 

In its charge sheet filed before Judge Jagdish Jyani, CBI has accused them of abducting the nurse with an intent to kill (Section 364 IPC), criminal conspiracy (120 B) and various sections of SC and ST Act.

The agency in its charge sheet named Maderna and absconding suspect Sahiram.

The agency, which is yet to trace the nurse who went missing on September 1, filed the charge sheet in the case as the 90-day deadline following the arrest of the three accused was about to expire next week.

Bhanwari's husband Amar Chand had alleged that she was kidnapped at the behest of Maderna, who had denied the charges against him.

A CD allegedly showing Maderna in compromising position with Bhanwari had come to light after she went missing from Jodhpur's Bilara area.

The court also gave permission to the CBI today to record the voices of Sohan and Shahbuddin to match them with those in audio clips which are in public domain now. 

The CBI had moved an application yesterday seeking the court's permission to check the authenticity of the video clips which was granted today.

The court allowed the CBI to record the voices of the two accused in jail on December 7, counsel for the CBI SS Yadav said.

Shahbuddin was absconding after the abduction of Bhanwari and surrendered before the Metropolitan Magistrate in Jodhpur in October 22.

Hailing from Pipar town in Jodhpur district, Shahbuddin has criminal background and is close to the Maderna family whereas Baliya alias Baldev is a drug peddler and used to work for Shahbuddin.

He was arrested on September 6.

Sohan Lal worked as a public health and engineering department contractor here.

Bhanwari Devi had sold her car through him and was going to collect payment against the sale when she went missing.