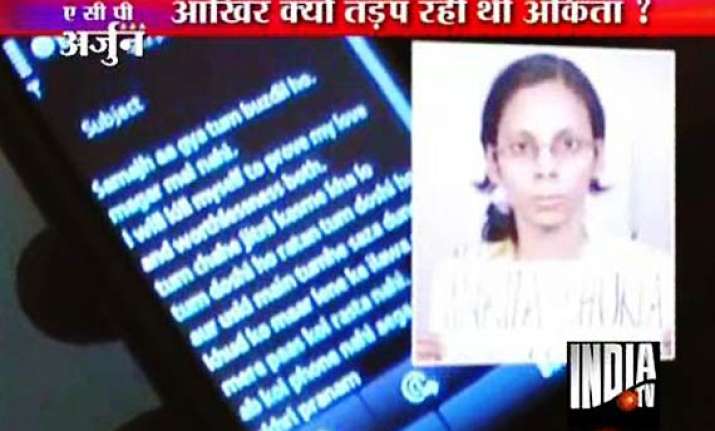 New Delhi/Ghaziabad, Dec 6: Dr Ankita Shukla, a lady doctor hailing from Lucknow and working in the Shahdara mental hospital (Institute of Human Behaviour and Allied Sciences) here sent 15 e-mails to her boyfriend in Mexico before jumping in front of a moving train in Ghaziabad on Monday.
 
The recipient of the e-mails appears to be one Rataneshwar Jha, whom she used to call Ratan, and both Delhi and UP police are pooling in their efforts to solve this "suicide mystery".
 
The 30-year-old junior resident doctor threw herself in front of a moving train  between Mohannagar and Sahibabad area.
 
"You are a weak man so I have no option but to commit suicide for which you are solely responsible. Still, I love you a lot", read one e-mail sent by Dr Ankita to Ratan.

"Shukla had sent about a dozen mails to one Ratneshwar Jha. They both apparently got to know each other through a matrimony website. Jha is in Mexico currently and his inability to come and marry her seems to have driven her to suicide," a police officer  said.

Her last email to Jha read: "I now know you are a coward. I will kill myself to prove my love. I don't have any other option."

The most surprising part was that Ratneshwar Jha did not react at all to her desperate e-mails threatening suicide. She sent 15 e-mails to him within a span of 24 hours.

"How much vows you take, you are guilty Ratan and I will punish you for this. I have no other option but to kill myself. Now you won't get any calls, or mail", said another e-mail.

Police said, Ankita had been sending e-mails to Ratan since Dec 3 .

"Junoon me bahut taaqat hoti hai. Ab kuch haasil karna hai nahin to khatm ho jana hai. Kaash, yeh junoon PG me lagaya hota.  Par ab bahut der ho chuki hai", read another e-mail.

Police said, Anikta had already decided to die before January 8, but she took her life a month earlier.

The e-mails mention the name of one Abhimanyu, with whom her wedding had been fixed, but she was bent on marrying Ratneshwar, police said

"I am biting  the capsule. Maybe I will go to sleep soon.  Have pity on me. I still want to live. I will marry Abhimanyu, but you made me a victim of your stubbornness. He rang me up yesterday and I just kept on weeping. He went on asking me, I did not tell him anything", said another e-mail.

Hospital staff said that Shukla had worked there for six months. Asha Soni, who identified the body, said, "Ankita stayed in a PG in her neighbourhood.  Four months ago, she left the PG and went somewhere else. But she often came here." Dr Shukla was till Sunday residing in Karol Bagh on rent.

The victim's family in Lucknow has been informed about the incident. "She jumped in front of a train near Rajendra Nagar industrial area in the morning. Her father is a reader with Awadh University," said a police officer.