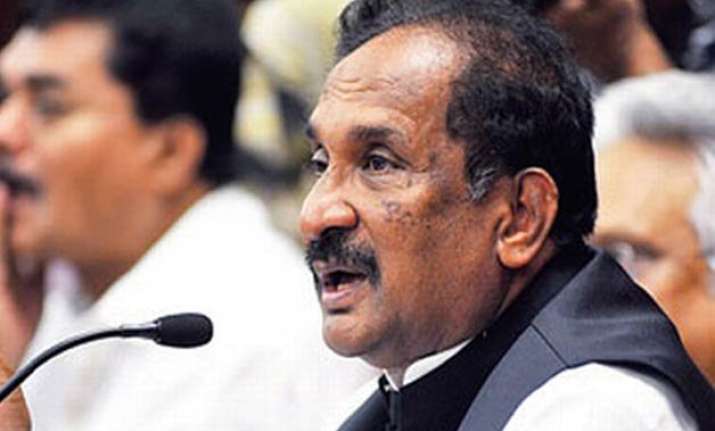 Belagavi (Karna):  Investigation into charges of corruption in the Lokayukta office cannnot be handed over to CBI unless the anti-graft body itself makes a request for it, Home Minister K J George said today.
The probe has now been handed over to a Special Investigation team on the request of Lokayukta, George told reporters here.
Lokayukta Bhaskar Rao is in the eye of a storm over charges of corruption in his office with his son's name also dragged into it.
Facing the heat, Rao has ruled out his resignation.
"We don't have any powers to initiate investigation on Lokayukta on our own. Lokayukta has sent a request to form an SIT and inquire about it. On the basis of that request, Chief Minister has constituted an SIT under an ADGP," he said.
"Government can assist Lokayukta when required under the Lokayukta Act," he added.
When questioned about the Lokayukta's request to conduct investigation by an independent agency, George said, "They have asked us to conduct an inquiry by an official above the rank of ADGP, according to that we have appointed ADGP."
On the demand for a CBI probe into the issue, George said "We don't have that power; we will have to go by Lokayukta's request; if they ask for a CBI probe we will give it."
"We cannot do it by ourself as it (Lokayukta) is a statutory body. We have gone by the request," he added.
Lokayukta was rocked by the alleged scandal recently after its Superintendent of Police Sonia Narang blew the lid off with a letter to its Registrar, about the complaint she received from a person, who alleged that someone from the Lokayukta office demanded Rs 1 crore in bribe to avoid a raid.
Rao, a former High Court Chief Justice, has rejected allegations that his son was involved in the scandal and said he would resign if the charge was proved correct.