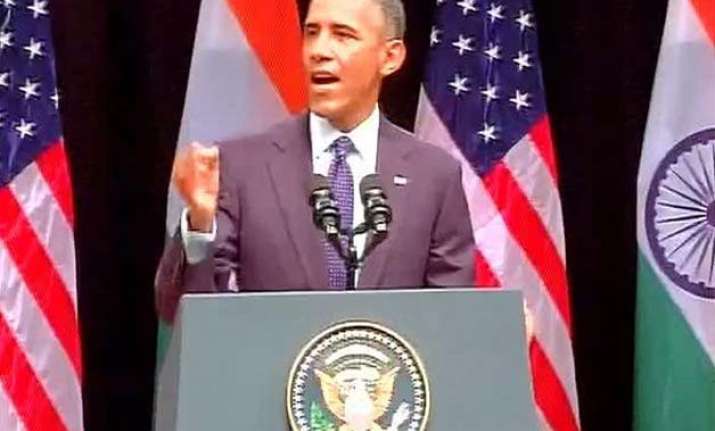 New Delhi: US President Barack Obama today addressed a select gathering including young students, at south Delhi's Siri Fort Auditorium.
With this address, the American President concluded his three-day-long visit to India. Obama, along with his wife Michelle Obama, had arrived here on January 25 to attend the Republic Day celebrations.
The American President had been scheduled to visit Taj Mahal with First Lady today, but he cut short his trip to visit Saudi Arabia and pay his respects to grieving family of King Abdullah died on January 23.
Below are the highlights of Obama's speech at Siri Fort Auditorium:
11:40 am: American President concludes his speech with 'Jai Hind'
11:39 am: We're home to glittering sky scrapers but also to poverty: Barack Obama
11:39 am: Both Indians and Americans are among the hardest working people in the world: Barack Obama
11:39 am: We are not perfect countries, have known tragedies & triumphs, have lot of challenges, but our to nation posses the key to progress: Barack Obama
11:38 am: I am the first US President to visit India twice, but I will not be the last, we believe in the people of India: Barack Obama
11:38 am: In India, most people are below 35 years old. Young people are going to shape the world: Barack Obama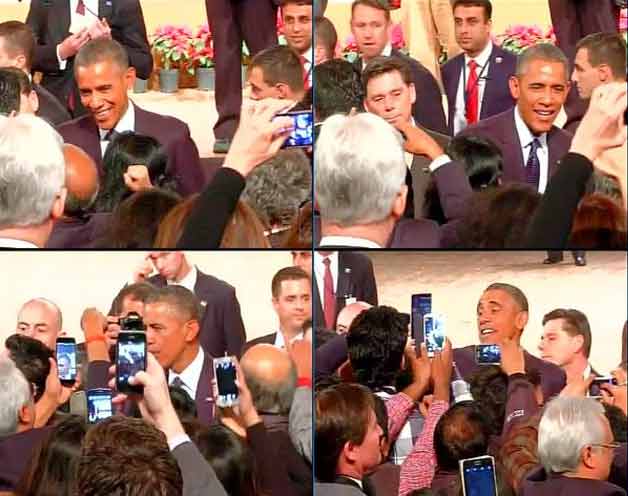 11:37 am: Michelle and I don't come from wealthy or famous families: Barack Obama
11:36 am: You're not just going to define this nation, you're going to shape the world: Barack Obama
11:36 am: Want to link US with Indian colleges and universities. I want more American students coming to India than Indian students coming to America: Barack Obama
11:36 am: We can learn from each and go further: Barack Obama
11:35 am: India takes pride in people like Milkha Singh, Mary Kom, Kailash Satyarthi, no dearth of talent in India: Barack Obama
11:35 am: Our diversity is our strength, we have to guard against the lines trying to divide us,sectarian or any other lines: Barack Obama
11:34 am: The peace we seek in the world begins in the human heart: Barack Obama
11:34 am: India will succeed so long as it is not splintered on religious lines: Barack Obama
11:34 am: We remember the wisdom of Gandhi. Different religions are branches of same majestic tree. No society is immune by the darkest impulses of man. More often, religion has been used to tap into it: Barack Obama
11:33 am: A girl commanded the Guard of Honour. It is a sign of great pride & strength: Barack Obama
11:33 am: Its remarkable to see so many women in the armed forces in India including the woman who led the guard of honor: Barack Obama
11:32 am: Your article 25 says people are free to practice their own religion. In our lives, Michelle and myself have been strengthened by our Christian faith. We need to step up as husbands, fathers & sons to protect our women.They deserve respect & dignity: Barack Obama
11:31 am: The aim of our work should not be to have a few do well but have everybody do well: Barack Obama
11:30 am: Nations are more successful when their women are more successful. Indian women have shown that they can succeed in every field. In US we are still working to ensure women get equal opportunitties, in India its the wives and mothers who hold the family together: Barack Obama
11:29 am: Every woman has the right to travel and board a bus with dignity. Michelle is not afraid to tell me when I am wrong: Barack Obama
11:29 am: In my life, I'm surrounded by three strong women. I am married to a very strong and talented woman. Michelle is not afraid to speak her mind when i am wrong which is frequent: Barack Obama
11:27 am: Together we can work against trafficking and the scourge of modern day slavery. Even if we live in a world of terrible inequalities, there's hope that a tea seller can become PM: Barack Obama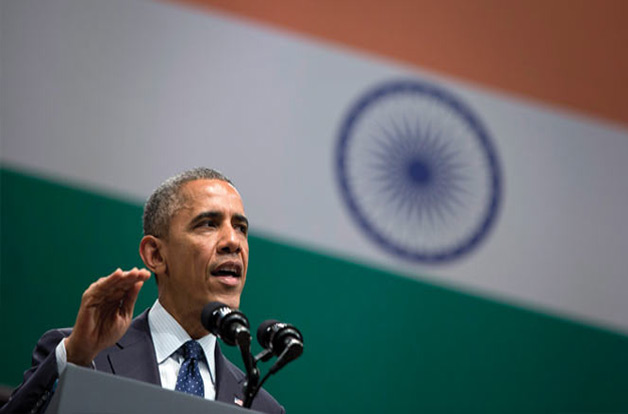 11:26 am: My grandfather was a cook in British Army in Kenya, when we were born, people like us still couldn't vote in many parts: Barack Obama
11:25 am: When we were born, people who looked like us couldn't even vote in our country. There were times when I was treated differently because of the colour of my skin: Barack Obama
11:25 am: When we were born, people who looked like us couldn't even vote in our country: Barack Obama
11:24 am: In both our countries, generations have worked to the ideals set by our constitutions: Barack Obama
11:24 am: We are the strongest when we see the inherent dignity in everybody: Barack Obama
11:24 am: If countries that are growing rapidly like India don't embrace clean energy, we can't tackle climate change: Barack Obama
11:23 am: We welcome India's ambitious targets in pursuing clean energy. It's your generation and children that will be affected: Barack Obama
11:23 am: In diverse nation like ours, progress depends on how we see each other: Barack Obama
11:23 am: India and US can work on vaccines to ensure no child dies of preventable disease: Barack Obama
11:22 am: It's your generation and children that will be affected. I'll be gone by the time global warming hits us. Young people like you have to speak up: Barack Obama
11:22 am: With rising seas, melting himalyan glaciers, cyclones getting stronger. Few countries than India will be affected.We welcome India's ambitious targets to combat climate change. You don't have to bear it alone: Barack Obama
11:22 am: A world without nuclear weapons should be the goal for all of us: Barack Obama
11:21 am: I support a reformed UNSC with India as a permanent member: Barack Obama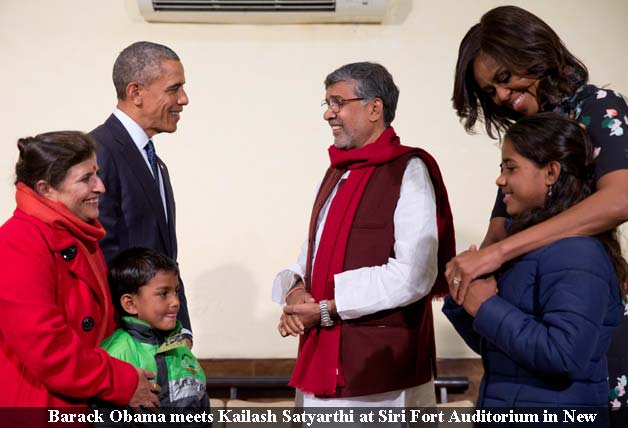 11:21 am: I feel inspired to talk to young Indians: Barack Obama
11:21 am: Both our nations have known terrorism, we can unite to defend ourselves. US welcomes greater role for India in the Asia Pacific. As I said before, with power comes responsibility. India can help nations like Burma and SL in this region: Barack Obama
11:20 am: As India wants to build better infrastructure we want to be first in line: Barack Obama
11:20 am: We want to be partner as you help improve the health of people from backwaters of Kerala to banks of Ganga: Barack Obama
11:20 am: We're joining you in helping everyone have a bank account: Barack Obama
11:19 am: America's carbon pollution is lowest than in two decades: Barack Obama
11:19 am: On the nuclear deal, we want to give you carbon free energy that will help combat climate change. We can now finally move forward towards the civil nuclear deal: Barack Obama
11:19: America wants to be your partner when you lift the lives of people and give them more opportunity: Barack Obama
11:18 am: The world would be a lot safer when our two democracies stand together. When Rev Martin Luther King Jr. was protesting racial segregation in America he said his 'guiding light' was Mahatma Gandhi: Barack Obama
11:18 am: We are one of the few nations who have gone both to the Moon & Mars. We transformed ourselves in the high tech hubs of global economy: Barack Obama
11:18 am: You've lifted countless out of poverty and moved them to the middle class. India can now lead the way to end the injustice of extreme poverty: Barack Obama
11:17 am: We may have different histories and speak different languages but we share a lot: Barack Obama
11:16 am: You are collaborating even more now -- on twitter, facebook, whatsapp. US has the the largest Indian diaspora in the world, they tie us together: Barack Obama
11:15 am: Having thrown of colonialism, we formed constitutions that begin with the same 3 words - WE THE PEOPLE
11:13 am: More than a hundred years ago America welcomed a son of India-Swami Vikvekananda. Swami Vivekananda helped bring Yoga to our country: Barack Obama
11:13 am: I beleive US can be America's best friend: Barack Obama
11:11 am: Those two great souls, Luther & Gandhi, are why we can gather here today.. Indians & Americans, equal and free: Barack Obama
11:11 am: We saw the pride and diversity of the nation and the daredevils on the Royal Enfields. My secret service does not allow me: Barack Obama
11:10 am: Relationship between US-India can be one of the defining partnerships of the century: Barack Obama
11:08 am: India-US partnership is vital: Barack Obama
11:08 am: I recognised India with the first state visit of my presidency... I even danced to the Bhangra. Last time celebrate festival of lights in Mumbai, danced with some children, unfortunately we couldn't arrange dancing this time. For the first time we brought diwali to White House: Barack Obama
11:07 am: 'Bahut dhanyavad' for bringing us back to India. It's been a great honour to be the first US President to be Chief Guest at India's Republic Day: Barack Obama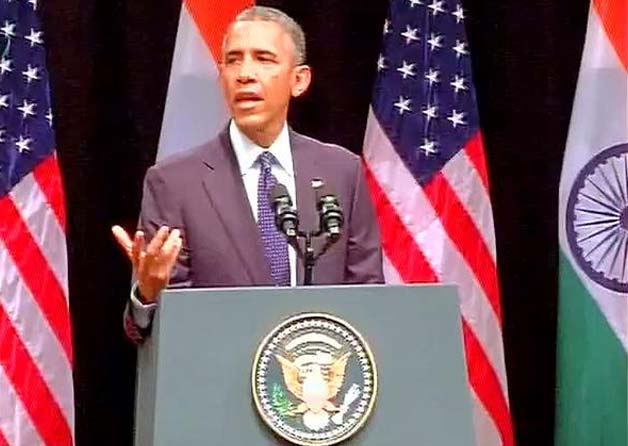 11:07 am: I bring to you the friendship of the American people: Barack Obama
11:06: am: President Obama starts addressing the gathering
11:05 am: US President arrives at Siri Fort Auditorium
11:00 am: First Lady of the United States Michelle Obama arrives at Siri Fort Auditorium