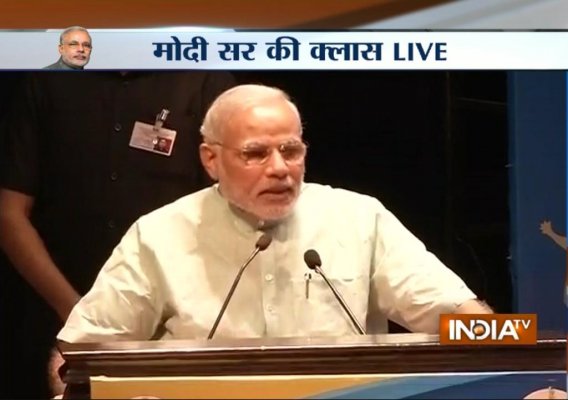 New Delhi: On Teachers Day, Prime Minister Narendra Modi today interacted with school children across the country and asked why good students don't want to be teachers?
He also said that girl education is his top priority and the initiative to ensure toilets in all schools was part of this endeavour.
Addressing students and replying to their questions via video conferencing in the first-ever initiative, he said he is talking to states to ensure that schools are set up near the homes of girl children to ensure reduction in their dropouts.
The Prime Minister stressed on increasing the importance of teaching profession and suggested that all educated, including engineers and doctors, should take classes to make teaching a people's movement necessary for nation-building.
He said the country is facing shortage of teachers and this needs to be changed so that India can "export" teachers.
Lauding girls for excelling in all fields, Modi said educating them means educating two families - parental as well as in-laws but regretted the high drop-out rate.
"Educating girls is my priority," he asserted.
Referring to his Independence Day address in which he talked about providing toilets in every school, he said the initiative was aimed at curbing dropout.
"I have noticed that girls drop out of schools by the time they reach class 3rd or 4th just because schools don't have separate toilets for them. They don't feel comfortable. There should be toilets for boys and girls in all schools. We should concentrate on girl students not quitting schools," he said.
Talking about his "Digital India" campaign, Modi asked teachers to make best use of technology in teaching without any discrimination and keeping them away from technology would be considered as a "social crime".
During the 90-minute interaction televised live, the 63-year-old Modi talked about his childhood narrating anecdotes and pranks qwith an emphasis that children should not lose their childhood and should inculcate the habit of reading as well as cleanliness.
The Prime Minister also gave a peep into his own personality by saying he was a "task master" who works hard himself and makes others also work hard.
Here are the Live Updates of the event:
-My message would be- keep the child in you alive. Keep smiling and playing.
-I pay my tribute to Dr. Sarvepalli Radhakrishnan.
Q: Are you thinking about giving an impetus to skill development?
Ans: Along with education Degree, having skill is an equally important aspect for the students today.  We have created a separate Ministry for skill development, says PM Narendra Modi on the importance of skill development.
Tata's Nano plant incorporated the students of nearby IIT's in their project in Gujarat. It helped the company in completing their project and the students got the opportunity to polish their skills.
Q: Are you planning of any similar campaign as "Padho Guajrat" in the country?
Ans: I am thinking of "Digital India". I want that technology reaches to every corner of the country in varied languages.
I am testing the technological advancements of schools through this live conferencing today.
Read whatever you like. Be it comic books, novel or any other you like.
Because of the "Padho Guajrat" campaign in Gujarat, whole society got connected. People in lakhs were indulged in reading of books. Libraries went empty; all books were taken for reading by the people across the state.
I want the students to keep pushing for learning more and more.
Q: Is politics difficult? How do you handle stress so well?
Ans: I believe that Politics is not a profession. It is a service.
The people of India are my family. Their happiness is my happiness and their sorrows are my sorrows. I want to keep working more.
Q: What we can do to preserve climate change and the environment in the country?
A: It is not the climate but it is us who have changed. For that we have to love the nature. We address Rivers as mother, but over the time we have forgotten that which has resulted in deterioration of River Ganga.
How many of you have seen the "Sunrise"? How many of you have seen the "Sunset"? Have you taken the joy of enjoying "moonlight?"
We have to learn to live with the nature. If we can do this, there would be balance in the environment.
-Serving the nation does not only mean doing grand things. Doing small things is a big service to the nation: PM.
-You can cut down the electricity bills of your household and help in ligthening the house of other poor people.
Q: What will you do about educating Girl child?
Ans: If a girl is educated then two families get educated- her maternal family and her family after marriage. In recently happened Common Wealth Games, half of the medalists were girls.
I always advocate for educating Girl Child. I am pushing the campaign of building Girls' Toilet in schools across the country, so that they don't leave the education in between.
I am glad that a girl child from Bastar, a Maoist hit area, is concerned about the education of Girl child in the country.
Q: Did you and your friends indulge in pranks during school days?
Ans: Can there be any child who does not play mischief? Childhood experiences are very important, says PM.
We used to staple the clothes of ladies and gents standing in the marriage function. It was so much fun. But promise me that you would not do this.
Q What is the difference in the education system of Japan and India?
Ans: In Japan teaching is minimal. You won't believe but it is true. It is all about learning. Students get the opportunity to involve in the process of learning. Every child is disciplined to the core.
Every parent is concerned about the well being of not only their own children but of all the children studying in the school.
I am impressed by the use of technology and scientific intellectual of the students in Japan.
How can I be the Prime Minister of India?
Answer: With sheer dedication and winning the trust of the people any child can become the Prime Minister.
Start preparing for 2024 elections...and it also means till then I do not have any threat. But do not forget to invite me in your oath taking ceremony.
Question: Who are you in real life?
Answer: I don't know yet who am I. Once I know it will be all done for me.
Question: What you are getting by interacting with the studednts ?
Answer: PM Narendra Modi said: "I don't work for the benefits; people who work for benefits are in trouble.
I am thankful to the media, who have given a platform to the students to ask their questions. The TV today is entirely occupied by our little friends. Country is excited and blossomed to see the faces of little children,. My battery is charged after interacting with you."
Speech
•  Development of the nation needs to be made a people's movement, says Prime Minister Narendra Modi while addressing students on Teachers' Day
•  There was a time when the most respected person in a small village was a teacher. Things have changed: PM Modi
•  India is a youthful nation. Cant we think of exporting good teachers? Why can't our children think — I want to be a good teacher : PM Modi
• There needs to be a debate as to why good students don't want to be teachers: PM
• We need to highlight the importance of teachers in society: PM Modi
• I feel blessed I can address students who are the future of India: Modi
• Prime Minister begins speaking.
• Students share glimpses into the life of Dr Sarvapalli Radhakrishnan.
• A teacher is one who not only teaches but also learns in the journey of teaching: Irani
• HRD Minister Smriti Irani addresses students.
• PM Modi arrives at Manekshaw Auditorium.