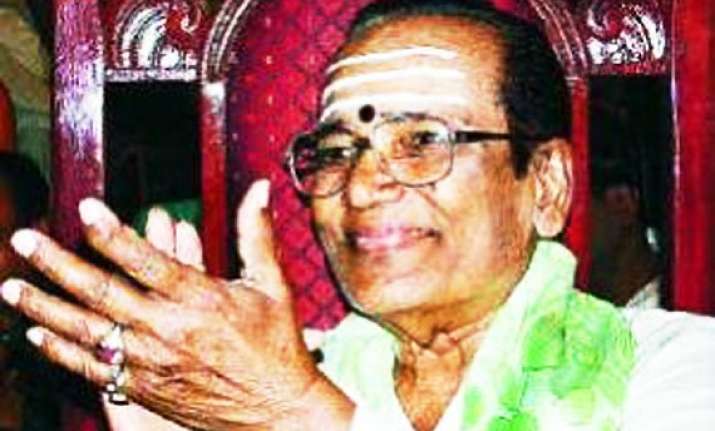 Chennai, May 25: The passing away of veteran Tamil singer T M Soundararajan not only brought down the curtains on a glorious career spanning nearly six decades but also signalled the end of an era.
Often hailed as the 'uncrowned king' of Tamil cinema, TMS, as Soundararajan was fondly addressed, set the benchmark for variety that was only expected to be emulated by aspiring singers in the later years.
After climbing up the ladder of success in a measured way, TMS, 91, was soon lending his mellifluous voice to the aces of Tamil cinema—M G Ramachandran (MGR) and Sivaji Ganesan, and remained numero uno for the next many years as he remained the preferred one for the two stalwarts besides others.  
Sounderarajan, recipient of Padmashri in 2003, was hailed for his variety and ability to adapt as MGR and Sivaji were poles apart in acting styles, and the singer was said to put extra effort to suit the perfectionist in Ganesan.  
Voice modulation was his forte, allowing the veteran to sing for more than one person in a particular song in films such as "Bama Vijayam", making him an instant household name among fans.
His memorable numbers—"Unnai Arinthal" (Vettaikaran), "Avalukkena" (Server Sundaram), "Malarnthum Malaratha" (Paasamalar) -- were among thousands of songs he had recorded for a number of Tamil cinema heroes.
He made most of the challenging songs sound easy with his fine pronunciation of the language.
Besides cinema, Sounderarajan's devotional numbers are equally popular with his "Ullam Uruguthayya" on Lord Muruga turning out to be the stand-out number. Overall he sang in excess of 5000 songs.
Social network pages were flooded with obituary references to Sounderarajan today even as scores of his yesteryear colleagues and others from Tamil cinema industry paid him homage at his Mandaiveli residence.