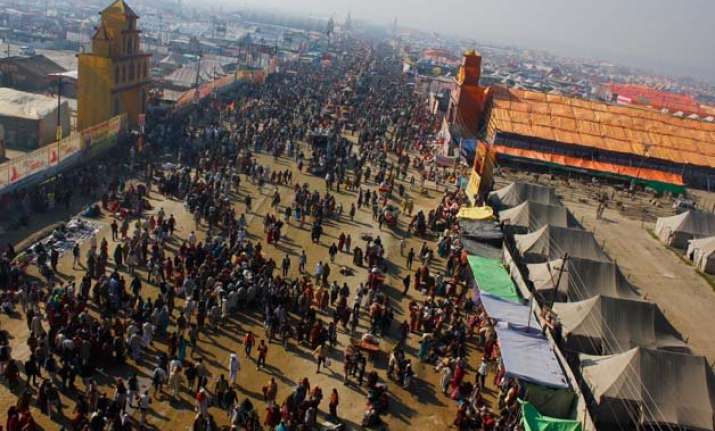 New Delhi: 2013 Maha Kumbh Mela held at Allahabad was better organised than FIFA World Cup in Brazil, researchers from Harvard University have said.
The 449-page book 'Kumbh Mela - Mapping the Ephemeral Megacity' by the researchers described the 55-day long event as sheer human achievement of creating the temporary, yet complex, infrastructure of the 24 sq km Kumbh City, comparable to almost two-thirds of Manhattan.
"For a country notorious for its 'lethargic' bureaucracy, the success of Maha Kumbh is truly noteworthy," the book says.
"The way a tent township -- much larger than the size of Manhattan in terms of population - pops up in a very short time-frame is an example and a project for planners, urban bodies and policy researchers. How more than 100 million come to a small place, stay there for 55 days, apart from a daily cycle of a crowd of nearly five million bathing at the confluence of the holy rivers Ganga, Yamuna and Saraswati, meet each other, pray, join their gurus, camp with sadhus and ascetics and safely return to their native places are the things worth studying," the book adds.
Students and faculty from five disciplines -urban planning, public health, business, architecture, and culture - were part of the team that studied event.
The book mentions barring a few countries hardly any country matches its aspirations with the capability.
"So is India, which has high ambition to provide everyone everything from farmers to migrants to factory worker. Its ambitions are very high but capability very low, and then it generates disappointment. But the Maha Kumbh management and success belies this notion," it says.
The book was recently released by Uttar Pradesh Chief Minister Akhilesh Yadav.