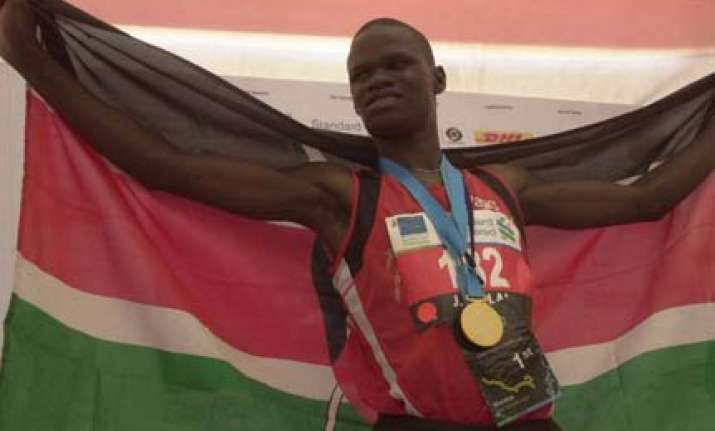 NEW DELHI _ John Ekiru Kelai of Kenya pulled away from the group of leaders in the second half of the race and was never tested again, winning the men's marathon Thursday at the Commonwealth Games.  
Kelai was running in group with four others near the 30-kilometer mark when he accidentally clipped Reinhold Iita of Namibia. After turning to apologize, the Kenyan broke away from the rest and won in 2 hours, 14 minutes, 35 seconds.  
Michael Shelly of Australia, who was not in the leading group but ran a fast second half, clawed his way up second place for the silver in 2:15:28. Amos Tirop Matui of Kenya took bronze in 2:15:58. Irene Jerotich Kosgei later became the first Kenyan to win the women's marathon at the games, taking gold in 2:34:32.  
Kenyan teammate Irene Kemunto Mogake earned silver in 2:34:43 and Lisa Weightman of Australia took bronze in 2:35:25.  
Kosgei tripped and fell to the ground at a water stop early in the race and briefly dropped out of the lead pack. But after recovering her composure, she slowly picked up her pace and caught the leaders, eventually pulling away for good with Mogake shortly after the clock hit 2 hours. With two kilometers to go, Kosgei made her final break, leaving Mogake behind.  
Weightman appeared to struggle throughout the race, running with the lead pack early but falling back several times and catching up again.  
On the final lap of the 10-kilometer loop, the Australian appeared to be totally out of it, but like Shelly in the men's race, she rebounded and put herself in contention for a medal. Kenyans dominated the distance events at the Commonwealth Games, as expected. On the track at the Jawaharlal Nehru Stadium, the Kenyans recorded four podium sweeps and won all but two of the distance gold medals.  
The women won the 800, 1,500, 5,000 and 10,000 meter races as well as the steeplechase. On the men's side, Mark Kiprotich Muttai added the 400 to Kenya's list of more expected victories in the 800, 1,500 and steeplechase. Moses Ndiema Kipsiro of Uganda, however, won both the 5,000 and the 10,000 to avoid total Kenyan domination, although he was followed by two Kenyans in both races. AP