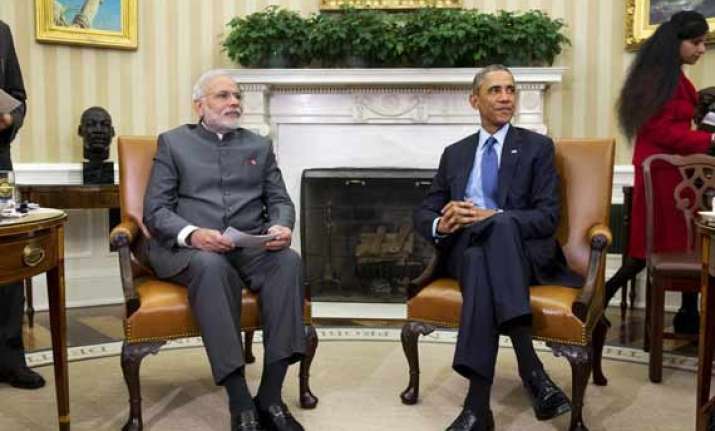 Washington: The Kashmir issue never popped up during the discussion between US President Barack Obama and Prime Minister Narendra Modi when they met at the White House this week, senior US officials have said.
Obama, however, supported Modi's efforts to invite leaders of the neighbouring countries, including Pakistan Prime Minister Nawaz Sharif, and establish better relationship with them, administration officials said.
"I'm almost 100 per cent sure that the word Kashmir actually did not come up (during Obama-Modi talks)," Phil Reiner, Senior Director for India at the National Security Council at the White House, told a select group of foreign correspondents in a media round table.
He was responding to a question whether Kashmir issue was discussed during the talks.
When Obama was hosting Modi for a private dinner at the White House a group of Kashmiri separatists held a candle light vigil outside the White House and urged the US President to raise the issue of Kashmir with the prime minister.
"I think the two leaders had a very positive conversation not only about our own bilateral relationship but the relationship I think that Prime Minister Modi is interested in developing and pushing forward with his Pakistani counterpart, Nawaz Sharif," Reiner said.
"It was a very strong and positive conversation about the potential that is inherent. I think that everyone saw with the invitation that was extended to Pakistan's leader to come to New Delhi for the inauguration, I think there's a great interest on the Indian side to see that relationship grow and move in the right direction. That was the gist of the conversation," he said in response to a question.
Assistant Secretary of State for South and Central Asia Nisha Desai Biswal said the two leaders shared the desire to support and strengthen democracy across the region.  "...that democratic societies tend to advance stability, prosperity, and become better neighbours and better partners.
There was a very strong desire to take actions that support and strengthen democratic institutions, including in Pakistan, and valuing Pakistan's democracy as well," she said.
India, she said, has played a very helpful and supportive and constructive role in supporting Afghanistan's economic development.
"The Prime Minister pledged to continue in that direction, to continue to provide that support to the new government of Afghanistan. We welcome and value that, and we'll look forward to discussing what additional support India can continue to provide in that arena," she said.
"We will have close consultations with India, as we do with all of the neighbors of Afghanistan, with respect to how countries in the region can support the stability and the security and the prosperity of Afghanistan, because it is in the interests of all the countries in the region.