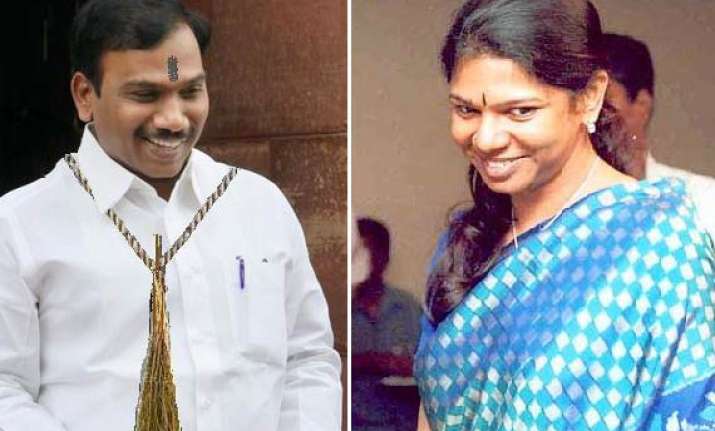 New Delhi, Apr 26: Tamil Nadu's first family has been singed by the 2G scam. On Monday, the CBI charged Kanimozhi, DMK chief M Karunanidhi's daughter, of conspiring with former communications minister A Raja to receive a bribe of Rs 200 crore which was allegedly routed to DMK's Kalaignar TV.

Kanimozhi along with Kalaignar TV CEO Sharad Kumar, Cineyug Films' Karim Morani and Kusegaon Fruits and Vegetables' Asif Balwa and Rajiv B Agarwal have been named in CBI's second chargesheet for conspiracy and under the Prevention of Corruption Act.

While Asif Balwa and Agarwal were arrested on March 29, Kanimozhi, Kumar and Morani have been asked to appear in the special 2G scam court on May 6. The odds are that they will be arrested that day. Accepting the chargesheet, the court ominously pronounced: "There is enough incriminating material on record" to proceed against the accused.

On February 4, The Times of India (along with The Economic Times) had first reported the money trail from DB Group's Dynamix Realty and two other associated companies to Kalaignar TV which is owned 60% by Karunanidhi's wife Dayalu Ammal, and 20% each by Kanimozhi and Sharad Kumar. And on March 30, TOI was the first to report that Kanimozhi would be charged in the 2G case.

While Kanimozhi and Kumar have been charged by the CBI, Dayalu Ammal has been spared, ostensibly because she doesn't know English and has not been involved in the day-to-day running of the TV channel.

In its 48-page supplementary chargesheet, supported by about 8,000 documents, the CBI said: "Dynamix Realty, which is a partnership firm of Dynamix Balwa group companies paid Rs 200 crore as illegal gratification to Kalaignar TV, which is also controlled by affiliates of DMK to which accused A Raja belongs, and such fund transfer was facilitated by Asif Balwa, Rajeev Agarwal and Karim Morani through their companies Kusegaon Fruits and Vegetables and Cineyug Films."

While indicting Kanimozhi, the agency said that the Rajya Sabha member was the active brain behind Kalaignar TV and held a 20% stake. She actively pursued with the intermediaries and DMK headquarters the matter regarding reappointment of A Raja as communications minister in 2009, "which clearly establishes the strong association of Kanimozhi and A Raja in the official/ political matters," CBI said.

The first chargesheet filed on April 2 had charged nine individuals, led by Raja, and three companies of criminal conspiracy, forgery, cheating and bribery and causing a loss over Rs 30,000 crore in the award of telecom licences and spectrum. The supplementary for the first time draws a money trail in the scam, which the CAG had estimated to have caused a loss of up to Rs 1.76 lakh crore to the exchequer.

The agency told the court that its investigations have revealed that Dynamix Realty partnership firm of DB Realty, Eversmile Construction and Conwood Construction Developers paid Rs 200 crore to Kalaignar TV between December 2008 and August 2009. Dynamix Realty had routed the funds through Kusegaon, which is a DB Group company, and Cineyug Films, where DB later held a 49% stake.

Elaborating on the money trial, CBI has said that the fund flow started on December 23, 2008, six days after Swan Telecom received Rs 3,609 crore from Etisalat Mauritius and Genex Exim Ventures. Over the next eight months, DB Realty transferred Rs 209.25 crore to Kusegaon Fruits and Vegetables through 16 transactions.

In turn, Kusegoan transferred Rs 200 crore to Cineyug Films in seven transactions. Another Rs 6.25 crore were was transferred to Cineyug through five transactions between January and July 2009. This, CBI has said, was post facto shown as a transfer by Kusegaon for acquisition of 49% in Cineyug.In the last leg, through six transactions between December 23, 2008 and August 7, 2009, Morani transferred Rs 200 crore Kalaignar TV account.

While the companies and those named by CBI claimed that the money transfer from DB Group to Kalaignar TV was a "loan", the investigating agency has rubbished the claim saying "no valid agreement was signed between any of the parties and no collaterals/ securities were ensured to secure the alleged loan amounts".

Investigation has also revealed that when accused A Raja was contacted by CBI for his examination scheduled on December 24, 2010, Kalaignar TV started refunding the amount of Rs 200 crore to Dynamix Realty, through Kusegaon Fruits & Vegetables. A substantial part of the amounts was refunded by it just before February 2, 2011, when A Raja was arrested, the charge sheet said.

The CBI has, however, given a clean chit to Green House Promoters, which was owned by Raja's aide Sadiq Batcha and his wife, in the conspiracy saying that the money transferred by DB Realty to the company was returned prior to the registration of FIR in the scam.