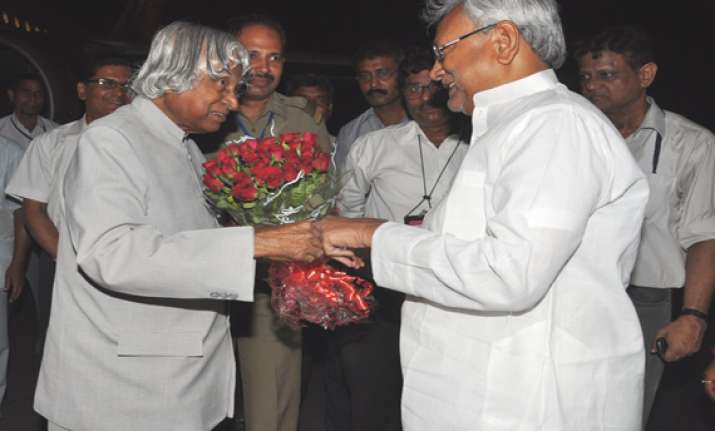 New Delhi/Patna, June 15
: Former president Dr APJ Abdul Kalam is fast emerging as the choice of NDA for the post of President, but the moot question is: whether Kalam himself is agreeable to contest for the coveted post.
In 2007, Dr Kalam had emphatically said that he would be agreeable to become president again, only if there was a consensus, but the ruling Congress opted for Pratibha Patil, and in the ensuing contest she defeated NDA's candidate the late Bhairon Singh Shekhawat.
Kalam is in Patna and has been invited to lunch by Bihar chief minister Nitish Kumar at his official residence.  
Nitish Kumar had personally gone to Patna airport last evening to welcome the former President. Kalam will be launching a hi-tech computer center at NSIC and will also address a programme at S K Memorial Hall today.
Late on Thursday night, West Bengal chief minister Mamata Banerjee, who had announced Kalam's name as her party's first choice, spoke to Nitish Kumar over phone about projecting Kalam as the non-UPA candidate for president.
The National Democratic Alliance is meeting in Delhi today to discuss about its candidate for presidency, while the UPA will meet in the evening at the Prime Minister's residence.  
Meanwhile, Samajwadi Party chief Mulayam Singh Yadav has left Delhi for Agra this morning, and Mamata Banerjee will also be leaving for Kolkata in the afternoon.