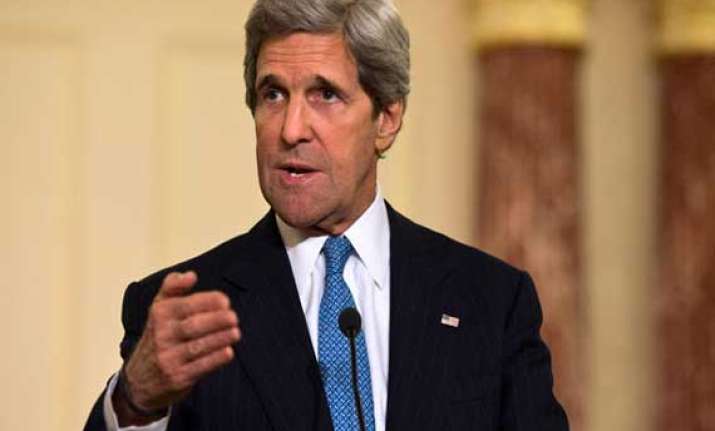 New Delhi: Seeking to seize "transformative moment" in ties with India, US Secretary of State John Kerry will arrive tomorrow for talks on key issues with the new leadership here.
Kerry's visit two months ahead of Prime Minister Narendra Modi's trip to Washington in September end is aimed at instilling some vigour into the bilateral ties, which appeared to have lost momentum in the final years of UPA regime.  
During his three-day visit, Kerry will co-chair the fifth India-US Strategic Dialogue on July 31 along with his Indian counterpart Sushma Swaraj on crucial issues of Strategic Cooperation; Energy and Climate Change, Education and Development; Economy, Trade and Agriculture; Science and Technology, Health and Innovation.
Ahead of his visit here, Kerry in Washington said "this is a potentially transformative moment in our partnership with India, and we're determined to deliver on the strategic and historic opportunities that we can create together" and added that "The US and India can and should be indispensable partners for the 21st century."
He will call on Modi, who has been invited by American President Barack Obama for a meeting in Washington in September.
India-US ties hit a low at the end of last year after senior Indian diplomat Devyani Khobragade was arrested in New York, strip-searched and charged with visa fraud for allegedly underpaying her babysitter.
Kerry is also expected to visit Bengaluru and will also be joined by the Secretary of Commerce, Penny Pritzker, who will be visiting Mumbai prior to participating in the Strategic Dialogue.
The US Secretary of State will be accompanied by a high-level inter-agency delegation and apart from Pritzker, the delegation includes Deputy Secretary of the Department of Energy Daniel Poneman, Under Secretary of the Department of Homeland Security Francis X Taylor and the US Special Envoy for Climate Change in the Department of State Todd Stern.