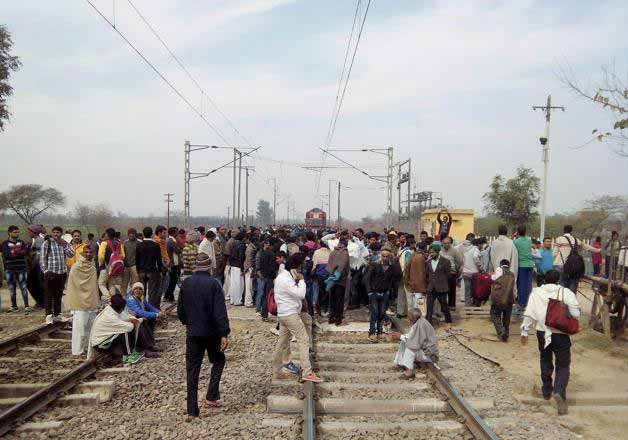 Chandigarh: Rail and road traffic was again affected in Rohtak-Jhajjar region on Tuesday as the Jats intensified their ongoing protest demanding reservation in government jobs and educational institutions under OBC category.
The members of Jat coommunity blocked the highways and other roads in Rohtak-Jhajjar region and also extended their protest to Sonipat and other parts.
The protesters had earlier blocked the NH-10 passing through Sampla town in Rohtak district. Rail traffic on the Rohtak-Delhi section has taken a hit in the wake of agitation with many trains diverted, a railways official said on Tuesday.
Agitating Jats said they want the government to take concrete steps to fulfill their demand.
"We do not want hollow promises and false assurances. We want the government to come out with a concret action plan," a Jat protester in Ismaila village in Rohtak district said.
On Monday , Chief Minister Manohar Lal Khattar had said that the four-member committee constituted by his government on the reservation issue demanded by the Jats in government jobs, would submit its report by March 31. He had also appealed to the protesters to clear the blockade and end protest.
On February 9, the state government had formed a committee comprising Chief Secretary D S Dhesi, Principal Secretary, Welfare of Scheduled Castes and Backward Classes T C Gupta, Principal Secretary (Industries) Devender Singh and a representative from the office of the Haryana Advocate General to examine the issue in detail.
Opposition party INLD has extended its support to agitating Jats and blamed the BJP government for not being able to address the Jat reservation issue appropriately.