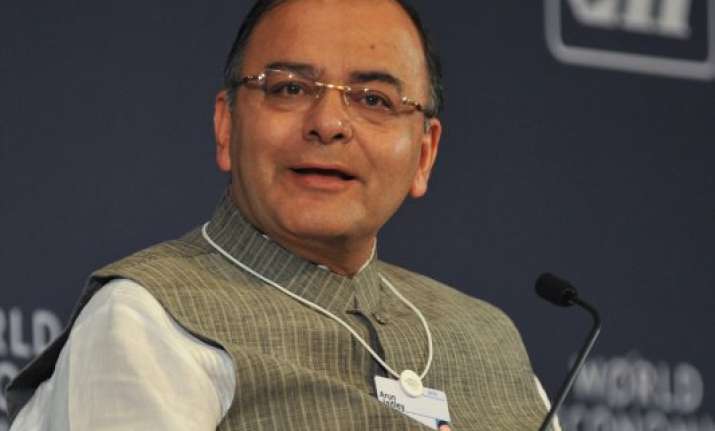 New Delhi: Finance Minister Arun Jaitley on Saturday said the implementation of Pradhan Mantri Jan Dhan Yojana (PMJDY), under which 2.14 crore accounts have already been opened, will not put any burden on banks.
"Any apprehension that this scheme may cause financial burden on the banks does not hold any ground as PMJDY makes a reasonable business case for the banks and there are enough safeguards inbuilt," Mr Jaitley said in New Delhi.
Modalities are being finalised to work out cost structure for insurance benefits being provided to the beneficiaries of the scheme, he said.
"As of yesterday afternoon 1.84 crore accounts were added. Enrollment have continued...as of today afternoon about 2,14,34,000 accounts have been opened," he said, adding that the target of opening up of 7.5 crore would be achieved before January 26, 2015.
He further said experience of certain banks was looked at and it was found that financial inclusion makes a reasonable business case for the banks due to CASA deposits from such accounts.
Over and above this, PMJDY makes the infrastructure ready for Direct Benefit Transfer (DBT) schemes to be rolled out quickly. This will improve governance and plug leakages, he added.
In-principle approval for 2 per cent commission to be paid for DBT Scheme has already been granted, Department of Financial Services Secretary G S Sandhu said.
"At present accidental insurance scheme is part of the RuPay Debit Card. National Payments Corporation of India (NPCI) pays the premium out of the revenue generated from card transactions. There is no burden on the banks," Mr Sandhu added.
The Secretary further said Rs. 5,000 overdraft limit will be given after satisfactory operation of the account for 6 months.
As such banks have already given similar limits in 35 lakh basic savings bank deposit accounts and the experience of the banks is good, Mr Sandhu said, adding Credit Guarantee Fund for defaults in such accounts is also envisaged under the scheme.
Prime Minister Narendra Modi on August 28 launched the Pradhan Mantri Jan Dhan Yojna, a mega financial inclusion scheme, to cover about 7.5 crore unbanked households.
Under the scheme, a person from an unbanked household, opening an account will get a RuPay debit card with a Rs. 1 lakh accident insurance cover. An additional Rs. 30,000 life insurance cover will also be given if the accounts are opened till January 26, 2015.
Mr Sandhu said Rs. 1 lakh accident insurance with the RuPay debit card is free to customer.
However, he said the premium on Rs. 30,000 life insurance cover would be part paid by beneficiaries for which department is working out modalities.
The new scheme is an improvement over the UPA's financial inclusion programme.