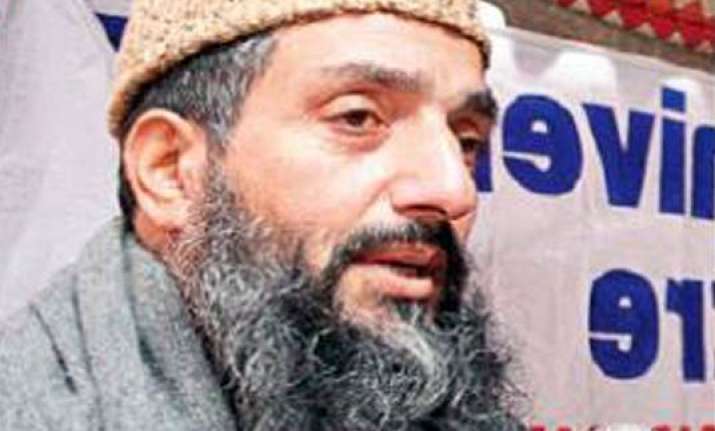 Srinagar, Apr 8 : Prominent religious figure and Jamiat-e-Ahli Hadees chief Moulvi Showkat Ahmad Shah was today killed in an improvised explosive device (IED) blast outside a mosque in Maisuma area of the city, police officials said.

Shah, who was critically injured in the explosion which took place around 12.30 PM, was rushed to a city hospital where he succumbed to injuries, they said.

Another youth, identified as Munir Ahmad Mir, was also critically injured in the blast.

Although the exact cause of the explosion is being investigated, police suspect that militants have used an IED planted on a bicycle near the rear entrance of the mosque where Shah used to lead the Friday prayers.

Several attempts were made on the life of Shah in the past.

Shah was also actively involved in separatist politics and was very close to JKLF chief Mohammad Yasin Malik.

Today's blast was the first IED explosion in Srinagar city in the last two years.

The last IED explosion took place in September 2009 when militants triggered a car bomb to blow up a police vehicle, leaving three persons dead and 18 others injured.

CPI(M) State Secretary M Y Tarigami condemned the killing of Shah, saying it was an act of "cowardice".

He called for an immediate end to political killings in Kashmir.
Condemning the killing of   Moulvi Showkat Ahmad Shah,  Opposition PDP today decided to defer its tehsil-level protests demanding a peaceful resolution of the Kashmir issue.

"In view of the situation created due to the assassination of noted religious leader and president of Jamiat-e-Ahli Hadees Showkat Ahmad, PDP has decided to defer its demonstration programme for the resolution of Kashmir issue which was to be held on April 9 at all tehsil headquarters in the Valley," a PDP spokesman said in a statement.
PDP patron Mufti Mohammed Sayeed And President Mehbooba Mufti  condemned the killing. The PDP leaders said violence was "antithesis of both religion and politics".  "These killings are another painful addition to the larger Kashmir tragedy," they said.  PTI